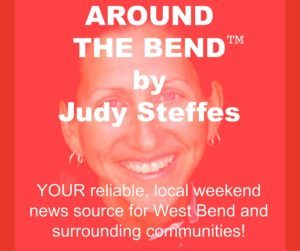 Updates & tidbits
-The Albrecht Free Clinic opens Tuesday, Jan. 5 at its new location at 908 W. Washington St. in West Bend. The new clinic will now offer medical and dental services.
-The annual Nabob Snowmobile Club Winterfest and Fisheree at House of Heileman's is Saturday, Jan. 9. The Fisheree at Gonring Launch opens 6 a.m. and Winterfest tent opens 9 a.m.
-About 25 people jumped into Big Cedar Lake on New Year's Day for the 3rd annual Polar Bear Plunge at the House of Heileman's.
-January 2016 is the 11-year anniversary of Maricio's Pizza, 1726 Barton Avenue in Barton. On a history note, in September 2012 Tomaso's changed its name to Maricio's in Barton. "It's a combination of our names, Rick and Mary," said co-owner Mary Waters. "It was a business decision," according to Waters as the family-run operation separated itself from the Tomaso's franchise of Cedarburg.
-West Bend's Steve Volkert, 48, left this week as the city of West Bend Director/Assistant City Administrator to take up his new position as City Administrator in Hartford. Volkert takes over for retiring administrator Gary Koppelberger. Volkert signed a four-year contract for $115,000. Amy Reuteman is the new HR Director/Assistant City Administrator for the city of West Bend.
-The Kohlsville Kruisers Brat fry and Fisheree is Sunday, Jan. 10 at Jug's Hitching Post in Kohlsville from 10 a.m. – 5 p.m.
– American Exchanger Services, Inc. in Hartford has been nominated in the small business category for the 28th Annual Wisconsin Manufacturer of the Year awards. Mayville Engineering in Mayville has been nominated in the mega category (800+ employees). Advanced Tooling, Inc. of Mt. Calvary in Fond du Lac County is nominated in the small category. Masters Gallery Foods, Inc. of Plymouth is nominated for the large category. Winners announced Feb. 25, 2016.
-There's an open house Jan. 5 at 7 p.m. at Limitless, 1204 Highway 33 across from West Bend Lakes Golf Course. The facility is a non-alcohol bar and concert hall run by Larry Last. Opening day is 6 p.m. on Friday, Jan. 15, 2016.