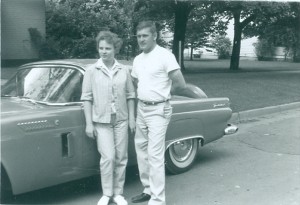 There was a strong turnout this week as neighbors gathered to remember Jimmy Gish of West Bend. Gish had quite an influence on the local racing scene and it seemed cars were always a part of his life.
Born in West Allis in 1937, Gish was an amateur boxer who also had a strong passing for racing and when he wasn't behind the wheel he was selling them. "Dad owned one of the most successful salvage yards in Southeastern Wisconsin," said Dan Gish.

His father worked at Bradley Auto Salvage on 43rd and Lincoln in Milwaukee. Later he purchased Krause Salvage on County Highway A just off Highway 144. "My dad knew a lot of racers and they said he'd give them the part for nothing," said Dan Gish.
Some of the racers Jimmy Gish competed against included Etchie Biertzer, Willie 'The Rabbit' Goeden, and Miles 'The Mouse' Melius. "My dad sponsored Willie for years and he bought a lot of parts for his business from my dad," said Dan Gish.
Alan Kulwicki was another family favorite. "When Alan was about 18 years old my dad helped him with his first car," said Joe Gish. "Alan would come to the salvage yard and he wouldn't get one fender, he'd leave with them all. He was racing hard and my dad helped him financially; he never expected to be paid back but Alan paid him back."
In 1986 Jimmy Gish sold the salvage yard and built Jim's Car Wash on South Main and Butternut Street in West Bend. "It was a full-service wash with six people in back vacuuming and prepping cars," Dan Gish said. "On a Saturday we would have cars lined up to the road and they would be double wide."
Returning home from college on the weekends, Gish said on certain days there would be no break. "You'd have 600 – 800 cars in one day and work from 8 a.m. – 6 p.m."
Burger King, he remembers vividly, was across the street. "We'd all put our money in and one unlucky guy would have to go over and make all the orders."
Gish said his dad also purchased the lot to the south. "He did that so he could widen the lot so we could get in more cars," he said. "We had the police telling us we had to get the cars off the road. There would be cars parked and waiting to come in."
Dan Gish said there was a house on the lot before his dad built the single-bay car wash. Wollner did the excavating did the work. "There was a car wash in Hales Corners and he thought it was the future," said Dan Gish. Indy car racer Arie Luyendyk also had an interest in car washes and according to Dan Gish the racer visited his dad's car wash in West Bend.
"My dad was an entrepreneur. He knows cars more than anything and he always thought a neat investment would be a parking structure," said Dan Gish. "He'd say, 'Boy if somebody could buy a parking structure that would be a real money maker.'"
Following the death of his wife Bonnie, Jimmy Gish purchased the Beaver Dam Raceway in 1992. "Open wheel dirt racing was in its heyday and my dad saw the stands were packed," said Dan Gish.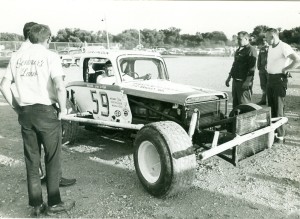 Following a serious remodel the track took off and racers included Tony Stewart, Sammy Swindell, and the World of Outlaw racers.
Lou DiBella, 80, is a lifelong friend of Gish. "I met him in 1940 on Adler Street in Milwaukee," DiBella said. "We stuck together for 75 years." The fellas had a common interest in racing. "I remember Jimmy won the main event at Wisconsin State Fair Park when they ran the modifieds on the quarter mile track," said DiBella.
"The next day in the West Allis Star the headline read, "Hometown boy wins feature event at State Fair Park."
Jimmy Gish of West Bend died unexpectedly on Thursday, Dec. 24. He was 78.