Around the Bend: Updates & tidbits – Town of WB chairman Paul Rice steps down after 20 years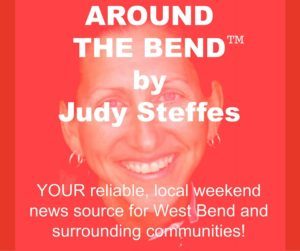 Dec. 24, 2016 – West Bend, WI – Updates & tidbits
– A mighty respectable moment this week at Holy Angels School as Peter James German Jr. received his Eagle Scout Award. German received a pair of certificates including a signed certificate with a gold seal from state Senators and a plaque from County Board Chairman Rick Gundrum and County Clerk Brenda Jaszewski.
– Town of West Bend chairman Paul Rice turned in his non-candidacy papers this week. Rice said 20 years is enough. "I gave the papers to Town Clerk Rebecca Schuster and told her to hang onto it just in case I changed my mind." Rice signed the paperwork a couple weeks ago. "A lot of my ideas have gotten tired and worn out and it's time for new blood," said Rice.
– A joint meeting is set for Tuesday, Jan. 24 at 7 a.m. in the Ziegler Building at the Washington County Fairgrounds where details will be presented regarding the Highway 60 Reliever Route 30 percent engineering study. The meeting will be strictly between the Executive Committee and the Public Works Committee. No public comment will be taken at that time.
– There was cake for Bert Neuburg this week as he retired following a 38-year career in the Washington County Park System.  
– The Allenton Volunteer Fire Department received a commendation from the Washington Co. Board this week for the positive outcome following a fire call at Allenton Elementary School on Oct. 19. The incident was a false alarm but the department handled the call and safely evacuated 400 students.
– The new Pizza Hut sign is in place at its new location, 1460 S. Main St., in the Paradise Pavilion. The store is just north of Regis Hairstylists.
-The West Bend Police Department recently recognized School District Crossing Guard Barbara Krell for 25 years of dedicated service.
– The United Performing Arts Fund (UPAF) is celebrating its 50th Anniversary Campaign in 2017 and this week UPAF was at the West Bend High Schools filming a video that will be used as its 50th Anniversary Campaign.
– Anna Jaeger, 74, of West Bend, passed away on Monday, December 19, 2016. Jaeger worked as a waitress at Dick's Pizzeria in West Bend for over 25 years.
– A check presentation this week as proceeds from the 2nd annual Diamond Dash were turned over to Lori Yahr and Enchantment in the Park. This year the Diamond Dash raised $7,629.29.
-Energy assistance is available to families in Washington County who need help with winter heating bills. Kay Lucas oversees the Energy Assistance Program with Washington County Services Department.  For more information contact Lucas at 262-335-4677.
– Natalie Dorrler is the winner of coming up with a new slogan for the Washington County Planning and Parks Department. "Your Washington County. Your Parks." Dorrler won 18 holes of weekday golf for 2 at the Washington County Golf Course.