Authorities believe man wanted for robberies in Germantown and West Bend has been arrested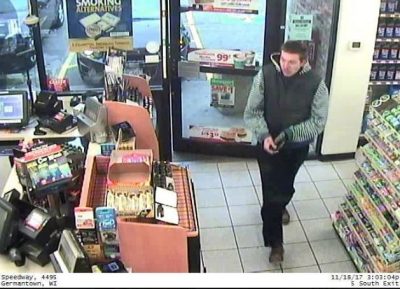 Nov. 28, 2017 – Washington Co., WI – On Monday evening, Nov. 27, 2017 the Milwaukee Police Department took Raymond Hartel into custody on unrelated charges.
The Germantown Police Department released the below surveillance video on Nov. 19 of the subjects believed responsible for the armed robbery at the GT Vapor store, N112W15800 Mequon Road.
Thanks to tips received from the public, we were able to identity Hartel as a suspect prior to his arrest.
Germantown Police Department did enter a temporary warrant for Hertel's arrest.
Work is still ongoing regarding the identity of the second subject wearing the hat.
The Germantown Police Department will be working closely with other agencies also investigating armed robberies.
According to Fox 6 in Milwaukee the man is custody is also the one suspected of robbing the Cigarette Outlet on Highway 33.
Click HERE to watch the video.