Autograph seekers are par for the course at U.S. Open | By Jacob Moeller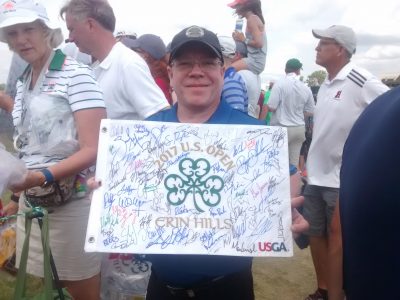 June 15, 2017 – Town of Erin, WI – With all of the activity at Erin Hills this week, it's a great time to pick up autographs from some of the top players in the world.
Thousands of eager fans line the course for a shot at getting a signature from their favorite player.
Rob Hintz, a Milwaukee native, is one of them.
With one of the biggest golf tournaments in the world just down the road, Hintz had to make the trip to his first U.S. Open.
And he's certainly not wasting any time collecting nearly 100 signatures in the first three days.
Hintz has already received autographs from 2015 Open winner Jordan Spieth, Sergio Garcia, and Jason Day.
All he hopes for to complete his collection are defending U.S. Open champ Dustin Johnson as well as 2011 winner Rory McIlroy.
At a big course like Erin Hills, it's often difficult to get the signatures, but Hintz found the 9th and 18th green to be prime places for an autograph.
Location isn't everything, however it still takes lots of patience to wait for the big names to arrive and a bit of luck once they do.
With a large collection and plenty of memories, it's clear Hintz's work has paid off.
About the author: Jacob Moeller is going to be a senior at Kettle Moraine Lutheran High School. Moeller is the youngest credentialed media reporter at the U.S. Open.