CBS 58 reporting two people cited for alleged theft of hat from 1904 Hartford Police Officer killed in line of duty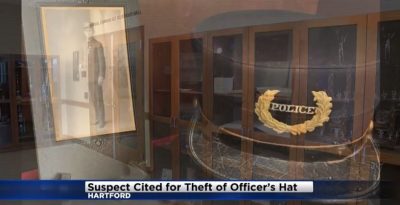 Nov. 14, 2017 – Hartford, WI – Hat tip to CBS 58 for following up on the story about a missing Hartford Police Officer's hat that dated to the 1900's.
 Hartford Police believe a man and his mother may be responsible for stealing the hat of a fallen police officer. 
31-year-old Scott Moen has been cited for theft while his mother, Lisa Anderson, is being cited for receiving stolen property. Both have also been cited for resisting/obstructing an officer. 
Marshal Leonard Scherger was killed in the line of duty in 1904. His hat was on display inside a case at the police department. Police say the hat was taken sometime in July.
After receiving a tip about the possible whereabouts of the hat, police spoke with several suspects to try to recover it. Police say the suspects were uncooperative in their investigation, causing them to have to search a local storage facility and use a dive team to search a partially frozen retention pond. The hat has still not been found and police believe finding it is unlikely it will be recovered.  
In addition to facing more than $2,700 in fines in connection to the theft, Moen has been ordered to…
Read the rest of the story by clicking HERE.