VIDEO | The haunted St. Joseph's Hospital and "Don't tackle the patients!"
Nov. 15, 2017 – West Bend, WI – A strong turnout for the 19th annual St. Joseph's Hospital reunion in West Bend earlier this month at the Top of the Ridge at Cedar Community.
Molly Erickson was a clinical educator at St. Joe's and Linda Jansen was a RN in 1982. The pair recollected some of their favorite memories working at the local hospital including sightings of ghosts!
There was also the story about a Washington County prisoner Thomas Ball who escaped the hospital and stole a vehicle from a woman in the area of Silverbrook Drive.  Below is the ….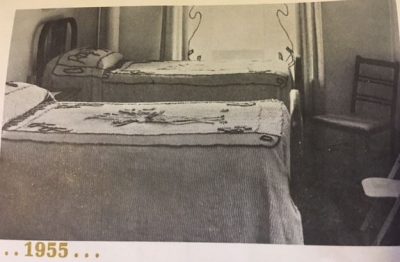 ….the story from the Associated Press from Oct. 5, 2000.
WEST BEND – A charge of attempted first-degree murder was filed Wednesday against a man accused of taking a guard's gun, fleeing naked from a hospital and commandeering a car before being tracked down.
Thomas F. Ball II, 24, of Hubertus, also was charged in Washington County Circuit Court with disarming a peace officer, first-degree reckless endangerment, battery of a peace officer, escape, armed carjacking and possession of a firearm by a felon.
Ball was captured in a field after being shot in the bare buttocks.
He and Christopher A. Kaczynski, 30, of Milwaukee, were charged Monday with being party to armed robbery of the M&I Bank in Allenton last Friday.
The criminal complaint said that, before he was apprehended Friday, Ball dropped a pillowcase containing $6,720 in bank money.
Authorities said Ball was being treated for heroin addiction at St. Joseph's Community Hospital in West Bend on Sunday when he stabbed at Deputy Marie Joers with his IV needle and took her gun. He lost his hospital gown in a struggle with Joers, then left the hospital and stole a Cadillac from a 77-year-old woman, authorities said.
On a side note: I was working at the West Bend radio station AM 1470 WBKV when this incident happened. I was a bit younger and somewhat daring and talked with my morning co-host Bob Bonenfant about the script/copy I would read on air.
I really wanted to say "Ball was finally captured as police shot him in the ass" and Bob's mature nature said "NO!"
By the time I got on the air and was reading the piece I could feel Bob's eyes on me… wondering what I was going to say. The final rendition went something like "Thomas Ball was finally captured as police capped him in the crack."
I will remember it always.