Cedar Community | The Stories of Ed Hoffman | By Carrie Sturn
April 16, 2019 – West Bend, WI – Ed Hoffman was born in Shorewood, WI 91 years ago, and grew up with one brother, helping at his grandparents farm near Sturtevant, WI.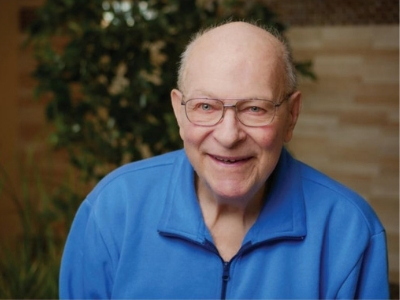 He played ice hockey in his youth, and went on to referee in the Illinois State Hockey League while his children were growing up, to earn extra money. He held summer jobs at cottages Up North. His first job while a freshman at Shorewood High School was at Canada Dry Beverages loading and unloading trucks. After graduation he worked for a year at West Bend Aluminum Company.
He then began his job of 42 years as a distributor, selling new release 78 rpm records for RCA Victor. His territory was the southern half of Wisconsin, not including Milwaukee and Madison, extending into part of Minnesota and Iowa. He says he put 40,000 miles on his car each ear.
Ed always took great pride in his work and doing it well. He claims he was a "working fool."
While working for RCA and traveling, Ed had many great experiences. He met Dinah Shore, Eddie Fisher, Homer and Jethro to name a few. He had lunch and golfed with Perry Como.
Click HERE for the rest of the story.
Be sure to read more about Cedar Community at Live More Magazine.