Celebration today – United Way of Washington County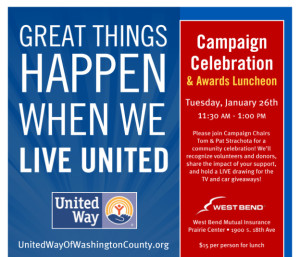 Big announcements this afternoon regarding the 2015 United Way of Washington County fundraising campaign. This year's chairs Tom and Pat Strachota will unveil their grand total for fundraising and the winner will be selected for the 2016 Toyota Corolla.
Be sure to check back this afternoon for the latest information following this afternoon's presentation.
Local news first at WashingtonCountyInsider.com from reporter Judy Steffes who has lived in the community 30+years.