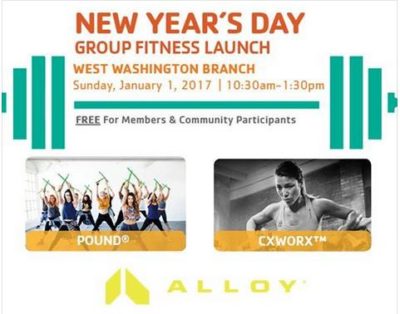 Dec. 19, 2016 – West Bend, WI – The Kettle Moraine YMCA in West Bend is proud to offer scientific training in a group setting through Alloy®, a premiere personal training system that provides proven results.
Alloy uses functional training based on movements you use in everyday life. By the time you leave an Alloy workout you realize you are stronger than what you ever thought you could be!
Alloy is available at all 3 branches of the Kettle Moraine YMCA – West Washington, River Shores and Feith Family Ozaukee.
PARTICIPATING IN ALLOY HAS GREAT BENEFITS:
Alloy can help you no matter your age, body type or athletic abilities.
Alloy gives you researched and studied workout routines for the most effective results.
Enjoy a fun, group atmosphere to support and encourage you during each workout.
Your workouts are tied to your movement screening to help reduce the risk of injury and challenge you appropriately.
Guarantee your spot in a class, especially during the busy season, by scheduling your workouts through the MINDBODY app.
You will benefit from more personalized attention while focusing on your specific goals and avoiding injury. In all of our options, trainers are on hand encouraging and correcting your form.
REAL WORKOUTS FOR REAL PEOPLE:
Foundations Team Training will ensure that you avoid injury, make progress at your pace and begin the path to success no matter your age, body type or athletic abilities.
Afterburn Team Training is a great solution for increasing metabolism, burning calories and fat loss long after your workout is finished.
Industrial Strength Team Training will have you working with heavier loads and fewer reps, which means more strength without the bulk.
In the Small Group setting, you will benefit from more in-depth instruction while focusing on your specific goals to see the results you are looking for.
To support you in getting started or taking it to the next level we would like to offer you an upgrade to one of our Alloy packages!
Purchase any Alloy training package by January 1, 2017 and we will upgrade you to the next level for your first month FOR FREE – A SAVINGS OF UP TO $50!
This offer is available to anyone who has not been enrolled in an Alloy program for the last 60 days.
TO RECEIVE YOUR ALLOY PACKAGE UPGRADE:
Schedule a Healthy Living appointment at any of the three Kettle Moraine YMCA front desk locations.
Sign up for your Alloy package option of choice. Be sure to mention this promotion!
A lead trainer will follow up with you to be sure you have everything you need.
Alloy is only available to Kettle Moraine YMCA members or Paradise Springs Fitness members. If you are interested in trying Alloy, but are not a Y member, we do offer a
30-day Alloy Experience that includes a Y membership for the month.
To learn more about Alloy, visit our website at kmymca.org and click on the "Are You Ready?" Alloy image on our home page.