Christmas tradition lives on as the wooden geese have landed at Cedar Ridge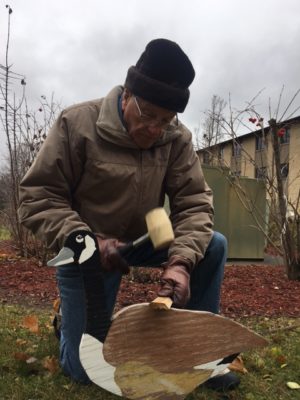 Dec. 2, 2016 – West Bend, WI – While growing up in Whitefish Bay my father had a workshop in the basement. There were nearly 10 table saws, a drill press, a lathe, screwdrivers and wrenches for any emergency and an assortment of worldly glues and fassen-alls.
My dad had quite the reputation for being able to repair anything. One Halloween someone smashed my 4-year-old cousin's pumpkin. She said, "I'm not worried… Uncle Al can fix it."
Evenings were spent in the basement roller skating around his sawdust. He'd encourage our creativity and say, "You draw it and we'll make it together."
One year my mom found a pattern for holiday geese in a Good Housekeeping magazine. She received the same instructions, "You draw it and we'll make it."
So she gave it to me – the one who could draw. 
Together my dad and I made four wooden geese. Cut them out on the jigsaw and painted them.
Together, during the cover of night, we placed them in the front yard to surprise my mother the next morn.
During the day, from the living-room window the geese looked like they just landed; red bows around their necks, taking a break from their holiday flight.
That tradition of placing the geese in the yard continues.
My father is almost 93 now, he is strong like bull but Alzheimer's has robbed him of his memory. We take it in stride.
He doesn't remember making the geese, so I remind him.
Then we slip outside.
He asks, more than once, "Do you have a hammer? Do you have a stake to get these started?"
I do. I'm prepared, I had a good teacher.
Then he'll say, "This isn't a good hammer."
It's his hammer from his workshop that I now have in my basement.  I remind him it has sufficed in the past.
We set up the geese together.
They've become weather worn over the years … a little like my dad. He is slow to get to the ground and take a knee, but his hammer strikes are strong and steady.
I know wielding a hammer makes him feel worthy. He has a gruff, German determination.
The ground is wet and his nose drips from the cold.
He finishes the setup in about five minutes and steps back to quietly review his work. Somewhere in there I know he still feels it's a nice holiday surprise for his wife, who will look out their second-story window and see the geese have landed again for the season.