Doug Gonring named to Wisconsin Baseball Coaches Association Hall of Fame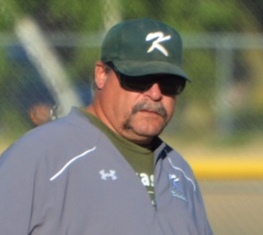 Dec. 2, 2016 – Kewaskum, WI – Long-time baseball coach Doug Gonring has been selected to enter the Wisconsin Baseball Coaches Association Hall of Fame.
"Doug was an easy choice for the committee because the success he has had at different levels and different schools," said Joe Waite, publications director for the WBCA.  "He is well known and respected as a great teacher of the game, which is evidenced by the success he has had year in and year out.  He is truly deserving and speaking for all of us on the committee, the WBCA is honored to induct him into our Hall of Fame."
Gonring has racked up a stellar career in baseball.
He played college ball at Florida Atlantic University and is part of that school's Baseball Hall of Fame.
He coached nine seasons at West Bend East from 1994 – 2003 and led the Suns to State baseball titles in 1999 and 2002.
Gonring developed players who advanced to the major leagues including former Suns pitcher Jason Wiedmeyer (San Diego Padres) and Mike Mueller (Atlanta Braves) pitched professionally after college and third baseman Ryan Rohlinger played for the San Francisco Giants.
Gonring also coached from 2008 – 2016 at Kewaskum High School.
In July 2016 he notched his 400th win as a coach when the Kewaskum  Indians downed Southeastern Wisconsin Home School Association, 11-3.
Gonring spent several seasons as a catcher in the Houston Astro and Toronto Blue Jay's organizations prior to professional baseball retirement in 1988. Gonring said it was 1986 when he had a run in with Yogi Berra during spring training.  By that time, Gonring had earned the nickname "Little Yogi."
"'Where is this Little Yogi,'" said Gonring doing a gruff Berra impersonation. "I stood up and raised my hand and he looked at me and said, 'You're too damn big to be a Little Yogi' and he turned and walked out. I knew he liked me from then on."
During a conversation Friday afternoon Gonring said he was honored by the selection. "I really thought this just went to older people," he joked.
Gonring celebrated his 54th birthday last Sunday. "I guess I'm old now and I'll be in that book," he said.
In an effort to put 22 years of coaching and a lifetime of baseball into perspective, Gonring said he did it for the players. "I never played a game for myself," he said. "They endured some hard times with me and I know I'm tough at times but I learned that through Gary Perkins and Steve Traylor and Kenny Bolek.
"The parents and the kids have bought into my program and it's been a better career for me coaching than it has as a player," he said.
Gonring will be inducted Saturday, Feb. 11 at the WBCA Honors and Hall of Fame Banquet at the Marriott Madison West.