City of West Bend to sell Mutual Mall
Feb. 20, 2019 – West Bend, WI – There is an accepted offer on the old West Bend Mutual Mall, 1043 S. Main Street.
For many in West Bend the building is the former home of Larsons Family Furniture.  An advertisement from a phone book cover reads, "Where Value is Measured by Quality at Modest Prices."
Photo courtesy Kirk Dyken
The phone book cover from 1962 shows an address of 723 N. Main Street.  Jim Larson moved the business to S. Main by 1964.
"I knew Jim Larson and when he built there on S. Main Street it was way out of town and everybody thought boy that's way out there and he's not going to have any business out there," said Jerry Mehring of West Bend. "He built beyond Decorah Road and we thought what's he doing way out there."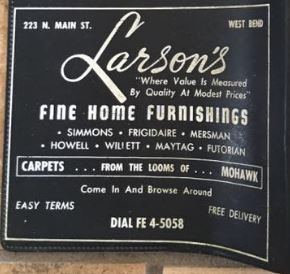 This week the City of West Bend reviewed a purchase agreement from ICAP Development.
The city owned the property since purchasing the City Hall parcel, formerly West Bend Mutual Insurance. West Bend Mutual reportedly owned the location to the north for possible expansion.
"The building (Mutual Mall) is in need of lots of work," said city administrator Jay Shambeau. "When we walked through with some commercial realtors they quickly said it had potential for redevlopment."
Shambeau said ICAP Development and Dan Jeserig, Senior Vice President of Acquisitions and Development, have 90 days to do its due diligence and make a decision on the parcel.
"They will work with someone to redevelop it," said Shambeau. "Similar to other sales we did, like with Qualm Engineering, we set some standards."
The purchase price of the parcel is $500,000. There was no assessed value because it was owned by the City and therefore tax exempt.
"We talked about the $2 million minimum value regarding the new development and it will be great to get it back on the tax rolls," Shambeau said.
ICAP has 90 days to make its decision.
On a history note: What do you remember about the former Larson's Family Furniture?
-Jerry Mehring – "Jim had a lower level to his store and that was pretty unique for the time."
–Cathy Lawton – "Larsons Furniture was a beautiful store. I bought pottery pieces made in Portugal from there and still have them to this day."
–Joseph Hynst – "Kettle Moraine Fitness Center used to be on the lower level. Owned by Todd & Jay Pruitt."