Sept. 8, 2017 – Slinger, WI –  For the seventh year, Slinger High School and Hartford Union High School faced off against each other in the Coaches Versus Cancer game.  This year the traveling trophy was rededicated.
Originally the traveling trophy was named the Wilkinson Trophy in honor of past coach Kevin Wilkinson, however it was re-dedicated to remember and honor the father of Hartford coach John Redder who passed away from cancer.  To start the game there was a brief "re-dedication" ceremony with Wilkinson family and the Redders family participating.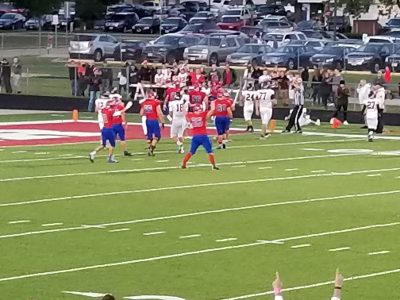 Slinger Owls came out guns firing as they took a 14 – 0 lead at the end of the first quarter.  Second quarter, Hartford re-focused its game plan and at the end of the half it was tied 14- 14.
In the third quarter the only score was a field goal by A.J. Arndt to give Hartford a 17 – 14 lead.
Fourth quarter became somewhat of scoring duel between the two teams, however Hartford's defense stood up to Slinger and came away with a 27 -24 win.
Hartford is now 4 – 0 for the season and Slinger is 2 – 2.
Slinger travels to West Bend next weekend to take on the West Bend East Suns.
Photos courtesy Mary Montag