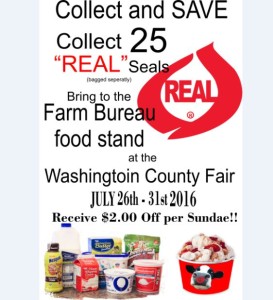 Neighbors across Jackson, Slinger, Hartford, and the rest of Washington County will soon see posters pop up across the community about the Washington County Dairy Promotion for the county fair this year.
The REAL seal for the dairy promotion can be found on store-brand dairy items, some pizzas, and butter.
It's a good deal for people attending the Washington County Fair this summer.
The seals should be turned over in separate bags of 25 and folks can receive $2 off a $3 sundae at the Farm Bureau stand.  The Washington County Fair is July 26 – 31.
Stay tuned…coming up an exclusive look at this year's Main Stage acts.