Controlled burn gets out of control in Colgate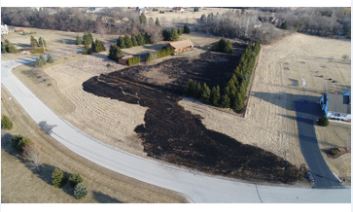 March 18, 2018 – Washington Co., WI – Richfield Fire Department  was called to a home in Colgate on Sunday afternoon after a grass burn got out of control.  Photo is courtesy Aerial Drone Photography. The home owner said they did a controlled burn last week and it went well. This week the fire jumped the fence. The area was around Scenic Road.
Nobody was injured.
There was also a grass fire 12:20 p.m. Sunday afternoon, March 18 on the east side of I41 at Hillside Road. That call came in just before 1 p.m. Slinger Fire Department was on scene.  Hat tip Ruth Marks.
Slinger Fire Department reported it was also dispatched at 3:04 p.m. for a grass fire in the 3500 block of Cumberland Trail and there was another grass fire at 12:51 p.m. in the 4000 block of White Hawk Trail.