Counting the rings on the 100-foot Silver Maple on Sixth Avenue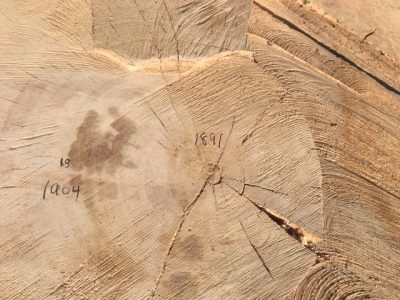 August 23, 2017 – West Bend, WI – A piece of history came down this week as a 100-foot silver maple tree was felled on S. Sixth Avenue.
Tom Francis hired Steve Awve and West Bend Crane to remove the monster tree which measured 13-feet 10-inches around; its mighty branches soar high above neighboring homes.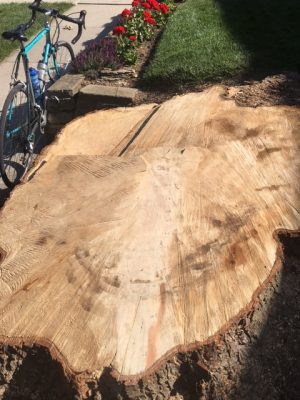 Although the cut was rough at the stump, Francis took a sander and with a labor of love and a sharp No. 2 pencil he set out to count the rings.
The final total at the center dated the tree to 1891.
On a history note in 1891….
-According to the book 'The Story of Washington County' by Carl Quickert the St. Kilian's Congregation built a stone church in 1876 and then Rev. Nic. M. Zimmer had a parsonage built in 1884 and a parish schoolhouse constructed in 1891.
-In 1891 Benjamin Harrison was the 23rd President of the United States
-In 1891 George Wilbur Peck was Governor of Wisconsin.
-The rotary dial, a device mounted on or in a telephone or switchboard was invited.
-The Wrigley Company was founded in Chicago.
-For bicycle enthusiasts: the Schrader valve was invented in 1891.
– W.L. Judson developed a zipper.
Click HERE to see a video of the tree coming down.
Photo of George W. Peck courtesy Wikipedia