Washington County, WI – Dairy Queen is running a limited-time promotion where they're offering a pair of $7 Meal Deals featuring a 3-piece order of Chicken Strips or an Original Cheeseburger. Grab a friend and visit any one of the Washington County Dairy Queen locations for your Meal Deal:
Kewaskum, 118 County H
West Bend, 1043 S. Main Street
Jackson, N168W21991 Main Street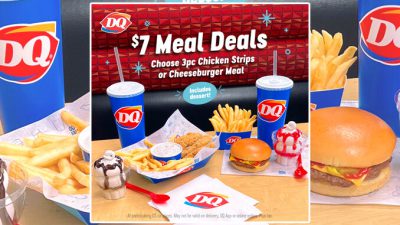 The Original Cheeseburger features a seasoned beef patty topped with melted sharp American cheese, pickles, ketchup, and mustard on a soft and toasted bun.
Chicken Strips feature the famous Dairy Queen all-white-meat, seasoned chicken strips served with your choice of dipping sauce.
As part of each meal deal, you also get a side of french fries, a drink, and a sundae to go with your entree choice.
Don't forget about upcoming events – order your DQ Cake today!