Damage reports flooding in following storms in Washington County
August 27, 2018 – Jackson, WI – Kevin Fries is sloshing through knee-deep water Monday morning at the Green Valley Mobile Home Park off Highway 60 in Jackson.
"It's mostly at Green Valley 1 and right now the water is flowing across the road to the outlet to the creek," he said.
Fries said there were a couple trees down including one through the roof of a home.
Nobody was injured but neighbors are saying they saw a tornado.
While that is yet unconfirmed, Fries would vouch for it.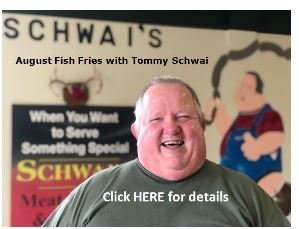 "I'm not an expert but I'm pretty sure it was a tornado because winds were coming from the southeast and then instantly they changed to the west and that's when everybody saw the tornado," he said.
Marleen Sweet submitted photos from a tree that her kids think was a lightning strike.
"This would be Western and Center Road, Town of Jackson. My rain gauge says 4.25," said Sweet.
Strong storms passed in waves through Washington County and southeastern Wisconsin Sunday night and into early Monday morning.
More details on damage and the exact classification of the storm is expected to be determined in the coming days.
Photo courtesy Jane Monday and Marlene Sweet.