June 19, 2020 – West Bend, WI – Darlene Ann Rodamer, 83, passed away peacefully June 17, 2020 in her home surrounded by family in Vero Beach, FL.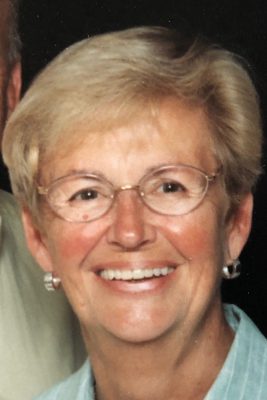 Darlene was born on January 12, 1937, the daughter of Joseph and Ann Smole, Darlene grew up in the Cleveland, OH area where she graduated from Notre Dame Academy High School and attended Western Reserve University.   She was united in marriage to Ronald Rodamer on May 28, 1960 at St. Vitus Church, Cleveland, OH.
She and Ron moved to West Bend, WI where they raised their children whom she cared for dearly.  Darlene was an active member of St. Frances Cabrini Church in West Bend, WI.  Throughout Darlene's life she worked in various positions but her greatest title was being a mother and grandmother.
After retiring she and Ron moved to Sugarloaf Key, FL, and then to Vero Beach FL where she was a member of St. Helen's Catholic Church and volunteered at Tambourine Resale Shop.  Darlene was an avid tennis player, enjoyed various exercise classes and was a fantastic cook and baker.  She enjoyed cooking for her friends and family, always trying new recipes to Ron's chagrin.
She is survived by husband Ronald Rodamer of Vero Beach; children Michael Rodamer, Key Colony Beach, FL, Anne Rodamer, Lomira, WI, Sara Tracy (Michael), Key Colony Beach, FL, Matthew Rodamer, Hartford, WI.  Grandchildren Samantha, Clint, Savannah, Danielle, and Isabella. Her brother Joseph Smole (Carol), Painesville, OH and nieces and nephews.
She was preceded in death by her parents Joseph and Ann Smole of Cleveland, OH.
In lieu of flowers, memorials can be made in Darlene's name to the VNA Memorial Fund, 1110 35th Ln. Vero Beach, FL 32960, link below.
https://www.vnatc.com/foundation/waystodonate/
A Memorial Service will be held at St. Helens Catholic Church, 2000 20th St. Vero Beach, FL 32960 on July 10 at 12 p.m.
Arrangements are by Strunk Funeral Home and Crematory, Vero Beach, Florida.   Please visit her guest book at www.strunkfuneralhome.com