April 28, 2021 – West Bend, WI – David Fredric Zoerb, 74, died suddenly on April 23, 2021 at UW Hospital following complications from heart surgery.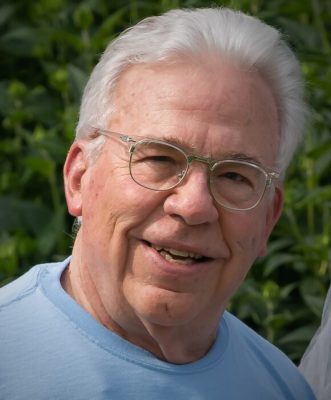 A beloved husband, father and grandfather, he grew up in Kiel, Wisconsin and never lost his love for the "small town in mass society." He graduated from Wayland Academy High School and the University of Wisconsin-Madison's College of Agricultural and Life Sciences. Dave and his wife Carol spent their 52 years together living in Beaver Dam, West Bend, Oostburg, Sister Bay and Waunakee. His family was the center of his life, and he supported his wife, daughters and grandchildren in all of their pursuits.
Dave appreciated a good story and great storytellers. He took time to learn about everyone in his life and he remembered what was important to them. At parties he could always be found telling a story to at least one lucky listener. He was curious, well read and fiercely loyal.
Dave's enjoyment of popular music was palpable and contagious. He frequently sang aloud to the car radio and appreciated many genres, particularly oldies and folk music.
During his career in advertising and marketing, Dave worked for Regal Ware and DCI Marketing before starting his own business which later became part of Frank Mayer and Associates.
He was passionate about education, especially higher education. Nearly everyone who met him knew he was a dedicated Badger, serving in numerous volunteer roles at UW-Madison, including as the national president of the Wisconsin Alumni Association. He loved helping young people find their path to college.
A lifelong athlete, Dave played football at Claremont Men's College (CA) before transferring to UW-Madison and playing for the Madison Mustangs. Later in life he ran several 5K races throughout the state with his family and also enjoyed golf. He believed organized sports were a fundamental aspect of being a scholar, and proudly served on the University of Wisconsin Athletic board. He was also an avid fan of Badger sports and the Packers. He eagerly followed his grandchildren's soccer, swimming, and diving careers.
With a deep belief in the importance of civic engagement, he was active in every community where he lived, serving as a volunteer on local park and economic development boards. Most recently, Dave volunteered with the MERLIN Entrepreneurial Mentoring Network, helping new businesses launch.
Here is some additional noteworthy information on his ties to West Bend:
Washington County Park and Planning Commission – served as the Chair
West Bend City Park and Recreation Board – member
Managed Jack Pick's mayoral campaign
He is survived by his mother, Betty Zoerb Pope; his wife, Carol; his daughters, Heidi (Bret Payseur), Mari Hansen (Dan); his grandchildren, Ethan and Megan Hansen; and his brothers, Hans (Jan) and Erik (Laurie).
In lieu of flowers, the family asks that you make a gift to the David Zoerb CALS QuickStart Scholarship fund at the University of Wisconsin Foundation or the Friends of Pope Farm Conservancy. Most importantly, listen to, remember, and share your stories and don't be afraid to sing along to a great song.
Private services were held earlier this week. The family plans to hold a public memorial service at UW-Madison's Alumni Park when public health conditions allow.