Jan. 21, 2019 – El Salvador – We arrived in El Salvador on Sunday afternoon to sunny skies and temps in the 90s. You could smell the sweet heat and it was heavenly.
For the next eight days WashingtonCountyInsider.com will post details on the missionary trip of David and Nancy Slinde of West Bend.

This is the couple's 30 journey to the small Central American country. Over the years, the Slindes have helped improve education, plumbing, and business development.
I'd like to say traditional Salvadoran food and relishing in warm weather was our priority. After having lived in the same clothes for two days, however, our lost luggage was a bit of a distraction.
The Reader's Digest version is that our snowy reroute out of Milwaukee got delayed and we arrived in El Salvador a day later than expected.
The reroute of our luggage couldn't be undone as easily so it's enjoying some tequila right now and time in Mexico City as staff from Delta try to track it down el rápido and ship it to El Salvador.
The protocol, once cleared through Customs and Immigration, is to file a claim at Delta and hope for the best. (Silently I'm betting our gear finds us the day before we leave or it'll be on my doorstep after I return home.)
Francisco was our driver today from the airport in San Salvador to Hotel Mariscal.  The Slindes let me sit up front where I spent time learning about Francisco:
-He has three children; the oldest is a 16-year-old girl who can get her drivers license if she wants. His younger boy, 10, knows how to drive but is too young for a license.
-The kids start school on Monday, Jan. 21. The boys go to private grade school and his daughter will go to public high school.
-Francisco lived in the U.S. in California for one year when he was 9.
-Hollywood movie stars popular in El Salvador include Brad Pitt, George Clooney and Sylvester Stallone. The in vogue ladies include Demi Moore and Julia Roberts. (Demi Moore as his first response threw me for a loop.)

Can we have infinity pupusa please?
The Slindes have been raving about pupusa since I agreed to go on this tour. Pupusa is a traditional Salvadoran dish which is similar to a filled donut. Instead of dough, however, a thick corn tortilla is stuffed with cheese, cilantro and meat. Nancy shot a short video to allow you to come in on the experience with us. (see above)
The ladies at Pollos Real restaurant create the pupusas from scratch. There is a bit of oil on their hands as they mold the tortilla dough, fill it with delicious cheese or meat goodness and then plop it on a hot griddle until the yellow corn masa tortilla turns slightly brown. "I could live on these every day," said David, scooping another off the serving plate.
There's a wedge of fresh lime and a bowl of smooth tomato salsa for an optional flavor boost.
The pupusa is not crunchy but thick and chewy. It's food outside my comfort zone and I find I love it, especially the hot cheese and cilantro.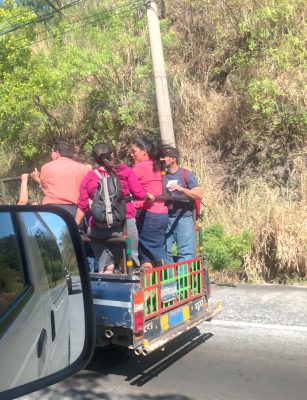 Updates & tidbits
-One of the unique things about El Salvador is the transportation.  It's mandatory for motorcyclists to wear helmets, the speed limit is enforced between 55 and 60 miles an hour on the highway and standing up in the back of a pickup while on the highway is completely legal. Side note: It was funny to ask our driver if "that was legal." I'm pointing at the pickup with people standing in the bed of the vehicle and he couldn't decipher what I was looking at and that there was anything remotely wrong.
-We are staying at Hotel Mariscal in San Salvador where there are beautiful chicken statues in the lobby. The rooms are simple and spacious. I can hear busy street traffic from outside my window but plush vegetation makes it impossible to see the road.
-In El Salvador the American dollar is used as currency. The interesting thing is that the $1 coins are also popular in El Salvador; not so much in the U.S., but they sure do use them here. In my pocket at the end of today I had a James Buchanan dollar coin and a couple of Sacagawea dollar coins from 2000. While researching the history I stumbled upon information showing these coins could be worth something.
-On Monday we plan on touring the Iglésia El Rosario, a colorful stained-glass church. We will also be meeting with representatives from Habitat for Humanity.
Click HERE for more stories about an Adventure in El Salvador.