November 21, 2019 – Washington Co., WI – UWM at Washington County volleyball head coach Debbie Butschlick was honored with the Wisconsin Collegiate Conference Coach of the Year award.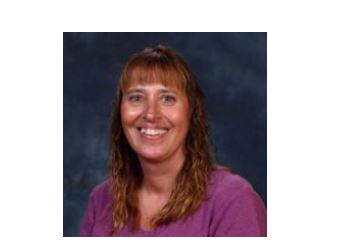 Butschlick serves as both athletic director and volleyball coach at UWM at Washington County. Butschlick began coaching the Wildcats volleyball team in 1985.
Since then, the team won the WCC conference championship nine times, WCC Eastern Division Title 12 times, advanced to the final-four state competition 16 times, State Runner up seven times, and earned the state title five times (1992, 2002, 2003, 2013, 2018).
UWM at Washington County posted a second place finish in the WCC Eastern Division with a 4 – 2 record and 9-4 overall. The team finished the Wisconsin Collegiate Conference State tournament with a 7 – 3 record earning the Runner up State trophy
The team also placed four players on an eight-person WCC all-conference team. Three players earned the highest honors of player of the year, setter of the year and defensive specialist of the year.
This is the 11th time Butschlick has received WCC Coach of the Year.
In 2018 the UWM at Washington County team put together a video praising coach Butschlick for her direction on the court and support in the classroom.
The team gathered to sing the praises of their coach and share their thoughts on how discipline, integrity and determination help them work together to secure the 2018 WCC state title.

"She was a great coach for many reasons – she was able to coach each individual player.

She wasn't afraid to fight for us on the court especially when it cames to chatting with the refs.

She has high expectations and pushes us to our full potential.

During a group huddle after one match she would say the right thing and get us fired up.

She not only pushed us on the court but she set the standards high in the classroom as well.

From the beginning Deb told us we weren't just a team but a family.

Thanks to Deb Butschlick for such a wonderful season."