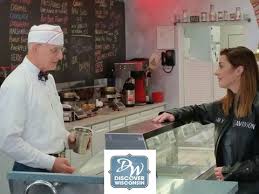 Feb. 2, 2018 – Hartford, WI – Discover Wisconsin, a long-running tourism TV show, will be shining the spotlight on Southeastern Wisconsin in an upcoming episode. "Bike Nights and Fall Sights in Southeastern Wisconsin" airs Saturday, Feb. 3 at 10 a.m. on Fox Sports Wisconsin and Sunday, February 4 at 10 a.m. on WITI TV 6.
The episode is also available for online streaming at discoverwisconsin.com
"When it comes to travel, I think it's all about the journey. Motorcycling is an amazing way to see and feel the beauty of Wisconsin and I think southeastern Wisconsin is a wonderful spot to start or end a motorcycling trip," said Mariah Haberman. "We're thrilled to name Burlington, Hartford and the Harley-Davidson Museum official 2017 Discover Wisconsin Choice Destinations!"
The show kicks off in Milwaukee at the Harley-Davidson Museum. Host Mariah Haberman tours the museum, including the restaurant on its campus, as well as the diverse array of exhibits at the museum, such as the Hollywood exhibit, featuring motorcycles that were used in Hollywood films. Haberman interviews Bill Davidson, great-grandson of company co-founder before Haberman and Davidson head out on motorcycle to Holy Hill.
The crew's next motorcycling destination is Hartford, where Haberman checks out The Mineshaft, Wisconsin's largest restaurant and a popular destination for locals and bikers alike. While in Hartford, Haberman meets up with the local Hartford Hog chapter outside of Pike Lake State Park for some gorgeous views of Pike Lake and fall foliage. The stop in Hartford isn't complete without a trip to Mickey's Frozen Custard for bike night.
Next up is a visit to Scoop DeVille, a nostalgic ice cream and candy shop and popular biker destination on Hartford's main drag. The crew makes a stop at Erin Inn for a true local experience, before Haberman takes a solo ride throughout the area. Also featured is Westphal Mansion Inn, a unique bed & breakfast full of character and history.
Last on the tour of Southeastern Wisconsin is Burlington, a city known for its chocolate and a perfect motorcycling destination during all seasons. Haberman stops in at Aeppeltreow Winery for some wine and cider samples before stopping at John's Main Event, a local establishment known for its chicken sandwich. For dessert, the crew stops at another iconic Burlington spot, Adrian's Frozen Custard, which hosted its first ever bike night.
"Bike Nights and Fall Sights in Southeastern Wisconsin" will reach Discover Wisconsin's broadcast network of 500,000 viewers across the upper Great Lakes region, including Wisconsin, Minnesota, Iowa, Northern Illinois, and Upper Michigan. The episode was produced by Olivia Gilbert. To learn more, visit discoverwisconsin.com.
About Discover Wisconsin
As the nation's longest running tourism program, Discover Wisconsin can be seen statewide on Fox Sports North (FSN) Saturday mornings at 10 a.m. For more on this and other episodes or the broadcast schedule in other areas please visit www.discoverwisconsin.com. Connect with Discover Wisconsin on Facebook, Instagram, Snapchat (discover.wi), Twitter and YouTube.