Donation made to West Bend Moose Lodge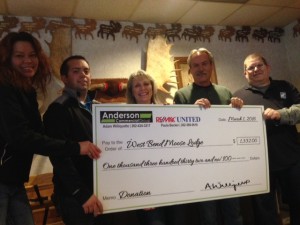 Adam Williquette of Anderson Commercial and Paula Becker from RE/MAX United present their first check to the West Bend Moose Lodge.
Receiving the check on behalf of the Lodge is Curtis Carter, administrator. Williquette and Becker have agreed to donate an amount equal to 20 percent of their commissions back to the lodge, from the sale of real estate sold or bought by a Moose member or a referral from a member.
The first sale, a ranch in Menomonee Falls, was sold by Becker on Feb. 26.
Moose members, Wayne and Michelle Lesperance, were the previous owners of the home.
"We look forward to being able to give back to an important institution in our community in the hopes the Lodge can use the money for needed repairs and upgrades," Becker said.