November 19, 2019- West Bend, WI- Veteran Donna Kleinmaus of West Bend recently received the Wisconsin Department of Veterans Affairs, Women Veterans Impact Award.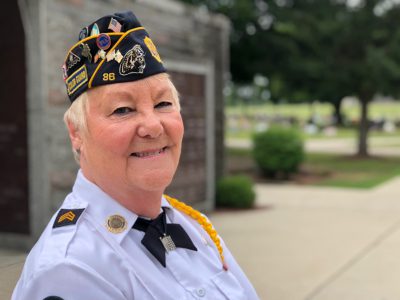 Kleinmaus began serving in the Women's Army Corps when she was only 19 years old. As it was her last year as a teenager, she felt the need to do something that would leave a big impact.
Seeing the posters of Uncle Sam saying "I WANT YOU!" inspired her to join the military to find "fun, travel, and adventure."
After basic training in Ft. McClellan, Alabama, she was assigned to Permanent Party Status in the Finance Division in Fort Ord, California. Because Kleinmaus was the secretary to the secretary of her post's Finance Adjutant, a typical day consisted of transcribing her boss's shorthand, typing it up, and sending it on its way.
On pay days, she would supervise the officers as they counted the money to make sure that it was all accounted for.
Since her time in the Women's Army Corps, Kleinmaus has been busy raising her family and volunteering in her community. She helps perform Veterans Military Honors for the family of deceased veterans; on average it's 65 to 75 funerals each year.
As an executive board member of Lt. Ray Dickop Legion Post 36, Kleinmaus has organized a number of different projects. She orchestrated a banquet and program for the 100th birthday of the national American Legion, and a brat fry for the 100th birthday of Post 36. This included decorating the post to look like it was in 1919 and organizing a 100th Anniversary Directory.
Additionally, Kleinmaus and her husband, John, work with student veterans at UW Washington County and march in the Fourth of July and Memorial Day Parades.
She also sets up POW/MIA tables around West Bend and is working with another legionnaire to create one for Veteran's Day. Furthermore, she organized a brat fry to support two young veterans and their wives who walked the county to raise money for the Memorial Day Flag Program so that no grave will remain undecorated for any veteran who has served his or her country.
She is also the Kitchen Commander so she prepares and plans meals for on a monthly basis and for special occasions.
Kleinmaus and her husband also greet veterans at the airport as they return from the Stars and Stripes Honor Flight, and they were honored to go on that flight November 3, 2018.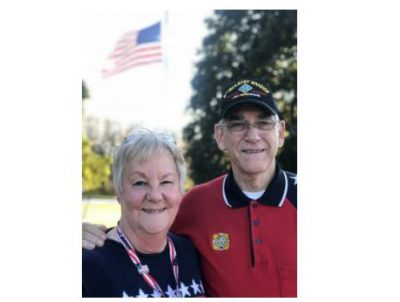 It is not only all of these accomplishments that earned Kleinmaus the nomination for Woman Veteran of the Year, from her County Service Officer, but also her work in the West Bend Veterans Honor Guard, volunteering in her community, charities, and her church.
This year  the Women's Veterans Impact Award was created, and any Woman Veteran of the Year nominee who scored over 200 points was given this honor.
Four out of 17 nominees were given this award, including Kleinmaus. She is very thankful for this award. "I'm terrifically honored," she said. "I am completely flabbergasted at the accolades and cards and congratulations being sent my way by complete strangers."