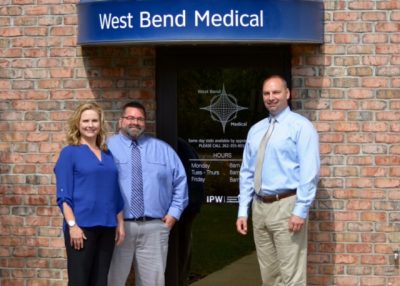 Oct. 4, 2017 – Washington Co., WI – West Bend Medical, a newly formed clinic with Dr. Chad Tamez, Dr. Carey Cameron and Dr. Brian Wolter is opening its doors in neighboring Menomonee Falls.
On Tuesday, Oct. 3 Dr. Tamez detailed the partnership and the goal to "make it a little more personal and bring back the feel of small-town medicine."
West Bend Medical is located at W178 N9201 Water Tower Place Suite #200 in Menomonee Falls.  The phone number is 262-355-8010. The doctors will start seeing patients on ….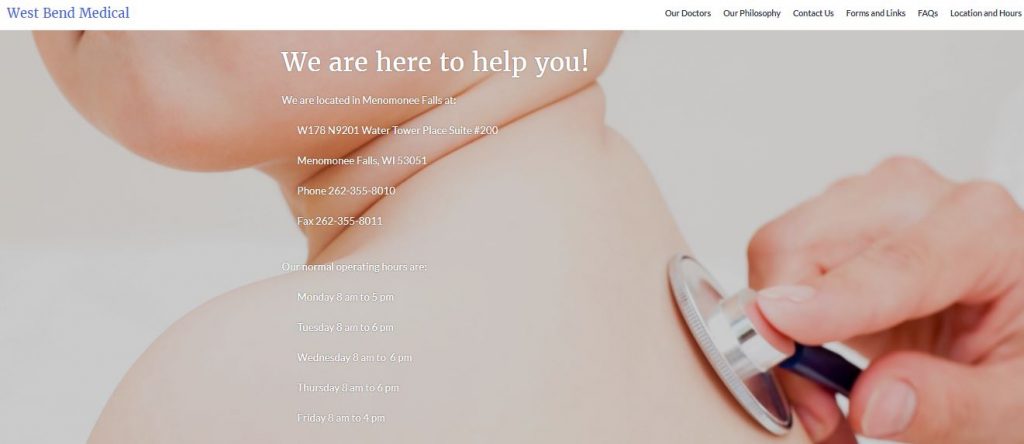 …Will start seeing patients on Oct. 10.
Dr. Tamez released this update.
We, at West Bend Medical, are so excited to finally be able to announce details of our new venture. After many months of preparation and planning, we are ready to bring the feel of small town, personalized medical care, back to patients looking for something different. Large scale medicine has advantages in many areas but we feel that the primary care relationship between a doctor and a patient should be just that, a relationship. A personal bond between people you know, recognize and trust to care for you and all your family members. You are unique, and as such, you deserve customized care based on best practices but tailored to meet your personal set of circumstances. We aim to do that for you. 

We are here to provide your family with chronic care management, well exams for all ages, acute care needs, same day visits and office based procedural care. We are grateful to be in Menomonee Falls where we can be close enough to accommodate new and old patients from the West Bend area and also offer an alternative for people seeking something different and fresh in the Menomonee Falls area.
Thank you to all those who supported our decision to take medicine back to it's roots and rediscover the heart of personalized, primary care. Our logo serves a summary of our beliefs in what it means, to us, to be a family doctor: 

Availability – to be there when you need us, be that in person for same day visits or after hours by phone when urgencies arise.
Accountability – to take ownership of your patient experience with us by providing the care you deserve at more affordable prices.
Ability – Competent, board certified medical doctors providing you with evidence based, best practices tailored to your families unique needs.

Affability – Compassionate, non-judgmental care with a friendly, casual bedside manner making a potentially stressful visit a little easier to handle.
As with any new business, we will have some growing pains and learning curves to overcome, so we ask for your patience as we introduce this new adventure. Our goal is to accommodate everyone that we can as rapidly as you need and we want to assure you we will work tirelessly to do so. Our phones will open today and our doors will open to patients on October 10th, in a limited capacity, while we streamline the patient experience. Please know your messages will get answered and your urgent needs will be addressed as quickly as we can manage. We hope any wait you encounter in the short term will be worth it in the long term as we constantly improve our processes.
So please, come check us out and share our message with friends and family to help us spread the word that Drs. Cameron, Tamez and Wolter are here to serve the primary care needs of the people in Washington County looking for a small clinic with a big heart.
Graphic courtesy West Bend Medical.