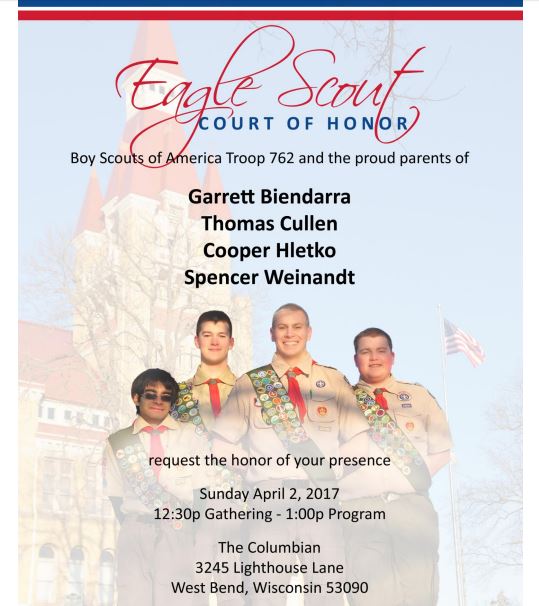 March 31, 2017 – West Bend, WI – Four Scouts from the same troop will be honored on Sunday during a ceremony at The Columbian.
The group, Garrett Biendarra, Thomas Cullen, Cooper Hletko and Spencer Weinandt, have attained Scouting's highest rank, that of Eagle Scout.
On its own accord, this is a huge accomplishment when a Scout is able to achieve this honor but it's an amazing feat when four Scouts from the same Troop in the city of West Bend accomplish this task at the same time.
Below is a little more about the young men who will be recognized on Sunday.
Garrett Biendarra was born in Izmail, Ukraine on September 24, 1998. he was adopted by Bruce and Denise Biendarra at a young age. He interests include music, model trains and travel. His love of the outdoors include activities such as camping, hiking and fishing.
He was a student in the West Bend School District since sixth grade, and he has been home schooled since seventh grade. He will graduate in June 2017.
Garrett joined the Cub Scouts with Pack 3782 when he was in first grade. He wanted to follow in the footsteps of his father, who is also an Eagle Scout. Garrett was in the Polar Bear Club in 2012 and 2013, and in the Sub Arctic and 10 Below Club in 2013. He likes the adventures of cold-weather camping.
Garrett earned 29 Merit Badges and spent 120 nights camping. He was elected into the Order of the Arrow in 2015. his leadership positions were Scribe 2013-2014 and 2015-2016, and Historian 2014-2015 and 2015-2016.
Garrett's Eagle Project was to make improvements to Puppyland Humane Society Inc.'s property. The improvements included redoing one sign, repainted the letters on a second sign, building and painting a picnic table with benches, painting a utility cart, planting two flower garden plots, and yard upkeep. The project took 195 hours to complete. He passed his board of review on November 1, 2016.
Tommy Cullen was born on March 3, 2000 at the old St Joseph's hospital in West Bend, WI. He is the son of Tim Cullen and Sherry (nee Strack) Cullen. He attended elementary school at McLane and middle school at St John's in West Bend, where he and his parents are members.
Tom is currently a junior at Living Word Lutheran High School in Jackson, WI. He is a member of the National Honor Society, has three varsity letters in football, is starting his third baseball season, and played two years of junior varsity basketball.
Tom has the lead role of Tevia in Living Word's spring musical, Fiddler on the Roof. Upon graduation, he hopes to attain an appointment to the United States Military Academy at West Point, NY.
Tom joined Cub Scouts as a Tiger in the first grade and progressed through the ranks, earning his Arrow of Light as a Webelos in 2010. In 2011, he 'crossed over' to Troop 762 of the West Bend Moose Lodge. Since then, he has camped more than 60 nights and has been to the BSA High Adventure Bases at Bechtel Summit in West Virginia and Seabase in Florida.
In 2013 he was elected by his peers to the Order of the Arrow and in 2015 was privileged to attend the National Order of the Arrow Conference at its centennial celebration in Ann Arbor, MI. Tom has earned 56 merit badges and served his Troop in leadership positions as an Instructor, Bugler, Assistant Patrol Leader, Patrol Leader and Assistant Senior Patrol Leader. A Scout is Reverent and Tom earned the religious medal God & Me as Cub Scout and both the God & Family and God & Church medals as a Boy Scout.
Tom's Eagle Project was the installation of a lighted 30 foot flag pole with Lannon stone landscaping and plantings at the sports field of his high school, Living Word. The project was completed in July of 2016. Tom Cullen made the rank of Eagle Scout on November 30, 2016 when he completed his Eagle Board of Review. In March of this year he earned and was awarded the Eagle Palm, Bronze.
Cooper Hletko was born in Park Ridge IL on Feb 24, 1999. He is the son of Bernie & Julie Hletko. Cooper attended Congress Park Elementary School, Badger Middle School then on to West Bend East High School.
Cooper has been involved in swimming since he was 9 years old and continued to swim once he reached the high school level. He was nominated rookie of the year his freshman year then once again his senior year he was nominated (by his peers) to be Captain of the Swim Team.
He has also been very involved in Kettlebrook Church's Youth Group and will be going on a mission trip from 3/25 – 4/1, 2017. He is in the process of enlisting in the Michigan National Guard and will be attending Western Michigan University to study Commercial Aviation once he is done with basic training.
He will also be part of the ROTC program at college. Cooper has been involved in Scouting since he was in first grade. He joined the Pack 21 out of Brookfield, IL. He crossed over into Troop 90 out of LaGrange, IL after receiving his Arrow of Light award.
When we moved to Wisconsin Cooper had already earned the rank of Tenderfoot, Second class and First Class. He would be joining Troop 762 once we settled in West Bend. He was fortunate enough to have Troop 90 & Troop 762 attend Camp LeFeber during the same week in June of 2011. He was able to meet his new troop members during that week. Once he was settle into Troop 762 he earned the rank of Star in 2013, Life in 2015 & Eagle Scout in 2017. In Troop 762 he served as Librarian, ASPL, Assistant Patrol Leader, Patrol Leader, JR Assistant Scout Master and Senior Patrol Leader. Cooper has earned 30 Merit Badges and was elected to the Order of the Arrow in 2015.
Cooper's Eagle Scout Project was a landscape project for the American Legion Lt. Ray Dickop Post 36. This project was to remove all the trees, shrubs and unwanted foliage around the American Legion building, then re-landscaped the area with plants chosen by the American Legion Committee. Cooper passed his Eagle Scout Board of Review on February 27, 2017.
Spencer Weinandt was born October 7, 1998 in West Bend. He is the son of Scott and Michele Weinandt. Spencer's interests include soccer, bowling, mountain biking and lacrosse.
He played bass in the orchestra for 4 years before graduating in June of 2016 from West Bend West. He is currently attending Moraine Park Technical College pursuing a degree in Web Design and Development.
Spencer joined Pack 3787 in Jackson as a Tiger, moving to Pack 3784 as a Webelos Scout. He earned the Arrow of Light and joined Troop 762 in 2009. While a member of the Troop, Spencer spent 190 nights camping, including his participation in the National Jamboree in 2013, Seabase in 2014 and Summit Bechtel in 2016.
He was inducted into the Order of the Arrow in 2012 and became a Brotherhood member in 2013. Spencer earned the Catholic Religious Emblem, Ad Altare Dai in 2014. Served the Troop as Senior Patrol Leader from November 2012 to November 2015, and Junior Assistant Scoutmaster until he turned 18 in October 2016.
Spencer plans to work for the Bay Lakes Council at Cub Scout World – Camp Rokilio again this summer as he has for the previous 3 years.
For his Eagle Project, Spencer designed, built and installed an informational kiosk along the Eisenbahn Trail, in a city of West Bend parking lot near downtown.