May 29, 2019 – Dodge Co., WI – Over the last couple of months, Dodge County Sheriff's Office employees along with Dodge County Emergency Management staff have had the opportunity to assist two families with bringing very exciting blessings into the world.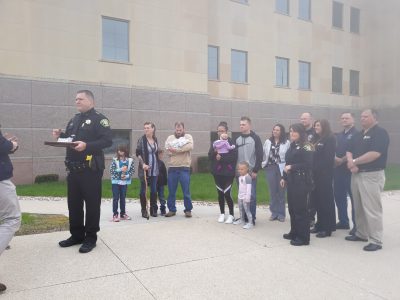 On Sunday, March 10, 2019 Communications Officer Peter Kaczmarski took a 911 call of a woman who was in labor and in need of assistance. While notifying EMS and gathering information from the father, a baby was delivered without complications while EMS was enroute.
Exactly two months later, on Friday, May 10, 2019, another father in need of assistance brought an expectant mother to the Dodge County Justice Facility as she was also in labor. Court Security Deputy Kelly Cotter, Communications Lieutenant Christine Churchill and Deputy Emergency Management Director Joe Meagher all responded to assist. At 1:59 p.m. a baby was delivered at the courthouse while EMS was enroute.
A third baby was born with a Dodge County dispatchers help on Tuesday, May 28.
On Wednesday, May 29, 2019 the Dodge County Sheriff's Office recognized these fantastic employees for the excellent service they provide to our community.