Enchantment in the Park opens Friday, November 24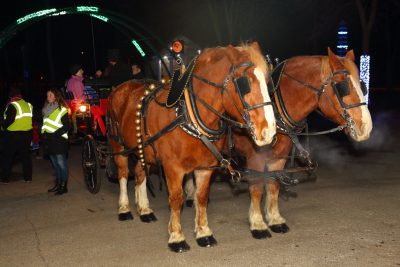 West Bend, WI – Enchantment in the Park begins in just four short days on Nov. 24 at Regner Park. The interactive holiday display features nearly 1 million lights and donations benefit food pantries across Washington County.
Starting Friday there will be horse-drawn rides. The large Belgian Draft Horses decked out with harnesses of jingle bells clip clop their way through the magical light display.
Enchantment in the Park encourages a donation of $10 per vehicle, as well as non-perishable food items.
Help make a difference this year and bring family and friends to the opening day of Enchantment in Park. Take the tour and stay for the fun.
Click HERE for the details on nightly entertainment.
Also be sure to sign up for the 2017 Husar's Diamond Dash!
The 5K (3.1 miles) is a lovely romp through the light display at Enchantment in the Park. Registration ends Nov. 30. Click HERE to sign up today.  All proceeds donated back to Enchantment in the Park and area food pantries.
On a side note – I have it on good authority that the swag bag for Diamond Dash is well worth the price of admission. See you at the starting line for the 2017 Husar's Diamond Dash at Enchantment in the Park.