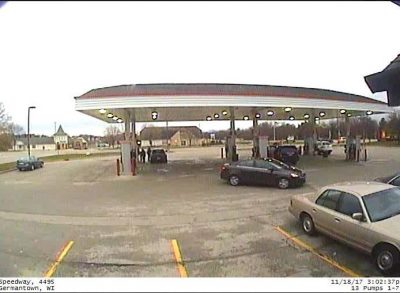 Nov. 20, 2017 – Germantown, WI – Update: Monday, November 20, 2017. The suspect vehicle is a 2016 Black Chevy Sonic bearing Wisconsin Registration ABE5651. Keep in mind that the suspect may change registration plates. There is drivers side damage.
Just as an FYI, this vehicle can reach speeds over 100pmh. I only note this because the original information stated it was a Chevy Aveo and some were critical of our efforts during the chase.
…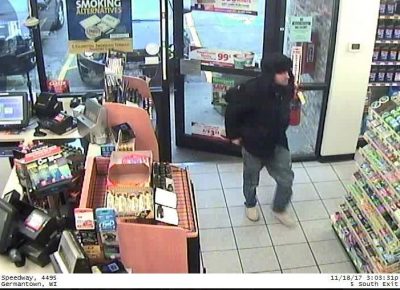 Dear GPD Facebook followers,
This post is in regards to the armed robbery on November 18, 2017, at GT Vapor store located at N112W15800 Mequon Rd. and the actions of the GPD pursuing officer. I generally do not enter into Facebook debates on the GPD page because some people have opinions based on limited or biased information, anything I say will not change that. I will, however not only defend the officer who pursued the armed robbery suspects on Saturday, I will publicly commend him for his actions.
When the call of the armed robbery came in, the pursuing officer took a position on Lannon Rd. near I41 because they were suspected of committing a robbery in West Bend and the suspects would most likely continue south out of Germantown. The officer set up his tire deflation device on Lannon Rd. and the traffic was heavy at the time. The suspect vehicle drove towards the officer, who was on foot, at a high speed and almost collided with him. Based on the speed of the suspect vehicle, the officer would have been killed if struck. After the suspect vehicle passed the officer, the officer had to pack up the device, then he pursued the suspect vehicle which was already far ahead of the him. Keep in mind, the officer had just experienced a life threatening incident. The officer then pursued the suspects giving it his best effort staying extremely calm. The officer, by law, is required to pursue with due regard.
Wisconsin State Statute: "The exemptions granted the operator of an authorized emergency vehicle by this section do not relieve such operator from the duty to drive or ride with due regard under the circumstances for the safety of all persons nor do they protect such operator from the consequences of his or her reckless disregard…."
The suspects had the advantage, they drove recklessly at high speeds putting everyone in danger. It was not a matter of keeping up, the officer tried to catch up while keeping everyone's safety into consideration.
For all of you who had kind comments for the officer, I thank you for that, it means a lot to us.
Chief Peter Hoell