Fish and Sticks on tap Jan. 22 at WBHS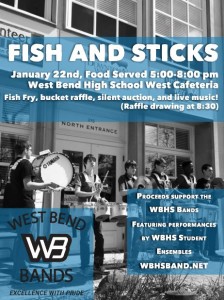 A nice fundraiser on tap this week (pun intended) to help promote the West Bend High School bands.
Instructor Corey Murphy penned this note.
Hello Everyone!
On Friday (1/22), the WB Bands will be holding a fundraiser banquet in the West Cafeteria from 5-8 p.m.
Students are encouraged to sell tickets for Fish Dinners ($8 in advance, $9 at the door) and Hot Dog Dinners ($5) which will help raise money for their individual travel accounts.
Also, this night will feature raffles and live performances by WBHS student groups. This event takes place on the same night Brass Wind and Fire! will be performing in the gym for the East vs. West basketball game so stop by to support your team and band in between events at the fish fry.
You may purchase tickets from your student band member now (order forms went home but are due back by Jan 19). Tickets are also available at the door that night.
We are seeking dessert donations, specifically pies and cakes, as well as soda and water donations for this event.
Please email Teri Milligan, our fundraising chair, at [email protected] if you are able to provide a donation. Additionally, if you'd like to support by donating cash, we will put that towards dessert purchases for this event.
Thank you! We are looking forward to seeing everyone!
-Corey Murphy
Hope to see you there!