Winners from HUHS Middle School Math Meet
Approximately 300 middle school students from seven different private and public schools including Richfield, Saylesville, Erin, Friess Lake, and Neosho competed this week in the 6th annual Middle School Math Meet hosted by the Hartford Union High School Math Club.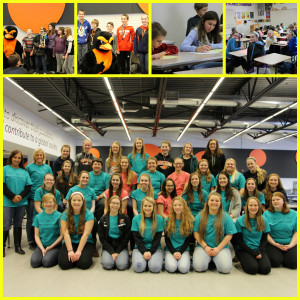 There were three individual competitions and one team competition. The top five individuals from each grade earned a medal and the top team brought home a trophy.
The results are as follows:
6th Grade Individual Award Winners
1st Carter Stommel (Saylesville)
2nd Sarah Werner (Erin)
3rd Riley Hamilton (Richfield)
4th Maddy Mudra (Central Middle School)
5th Victoria Hohol (Richfield)
Team Champions  Neosho/Saylesville
7th Grade Individual Award Winners
1st Holden Glass (Central Middle School)
Jayden Marx (Neosho)
2nd Zander Fluhr (Central Middle School)
3rd Nick Raynor (Central Middle School)
Cade Werner (Neosho)
4th Rory Navin (Erin)
Josh Weiss (Erin)
5th Miranda Franz (Friess Lake)
Team Champions Central Middle School
8th Grade Individual Award Winners
1st Alex Byard (Central Middle School)
2nd Christian LaBri (Erin)
Payton Weber (Richfield)
Cullen Rogacki (Richfield)
3rd Elizabeth Rhinehart (Central Middle School)
Alyssa Lear (Friess Lake)
Alex Perley (Friess Lake)
Mitch Schumacher
4th Olivia Carroll (Central Middle School)
Mason Selsing (Central Middle School)
Kenna DeRosa (Erin)
Elizabeth Briggs (Richfield)
Jacob Heinz (Peace Lutheran)
5th Adella Klebba (Central Middle School)
Madelyn Baker (Central Middle School)
Kali Pafford (Erin)
Jacob Kuehn (Erin)
Team Champions  Erin