Oct. 18, 2018 – Hartford, WI –  Neighbors in Hartford will want to keep an eye on downtown Main Street as some new flags will soon be flown at City Hall.
Earlier this week, part of Main Street in Hartford was blocked off as cranes removed the flagpole that sat on top of City Hall.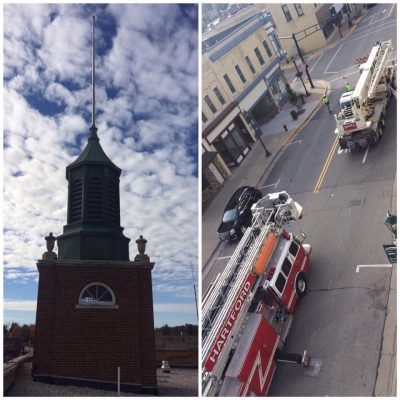 According to Steve Volkert, Hartford City Administrator, the building maintenance crew worked to resolve the structural damage to the roof and cupola for several months, eventually deciding it would be best to remove the flagpole.
"The wind stress on the pole over time, along with normal weather caused issues that had become possible safety risks to traffic below," said Volkert. "We determined the risk to pedestrians and vehicles, along with the cost for fixing the structural damage, was too great for simply maintaining a historic image. After bringing in some outside help, it was determined the safest route was to remove the pole."
After agreeing on the decision to remove the flag pole, City Administration researched alternative ways to display not only the U.S. flag, but the Wisconsin state flag as well.
"We contacted local veterans groups and they gave their blessing on our recommendation to put the flag poles at a 45-degree angle off the front of the building," Volkert said. "By changing this location, it makes it much safer and easier for maintenance staff to lower and raise the flags during the many times of year in which we are called to do so."
Two flags, the U.S. flag and Wisconsin state flag, will be mounted to the front of Hartford City Hall sometime this week.
"They put in the brackets Tuesday but wanted the epoxy to set before putting in the load of the new poles," Volkert said.