West Bend, WI – The new Fleet Farm, 3815 West Washington Street, in West Bend getting its message ready for the grand opening.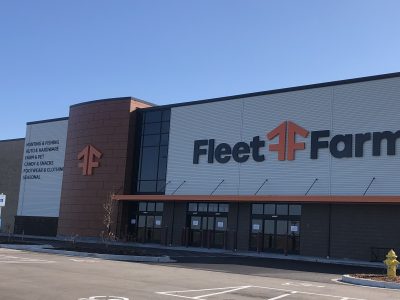 Media gets a sneak peek next week Monday with "an exclusive look inside the new tripled-in-size West Bend Fleet Farm."
There will be interviews with Fleet Farm SVP Nick Widi, who will give a personal tour of the store.
Robert Foster, General Manager, West Bend Fleet Farm—available for interviews and there will be a ribbon cutting and brief presentation.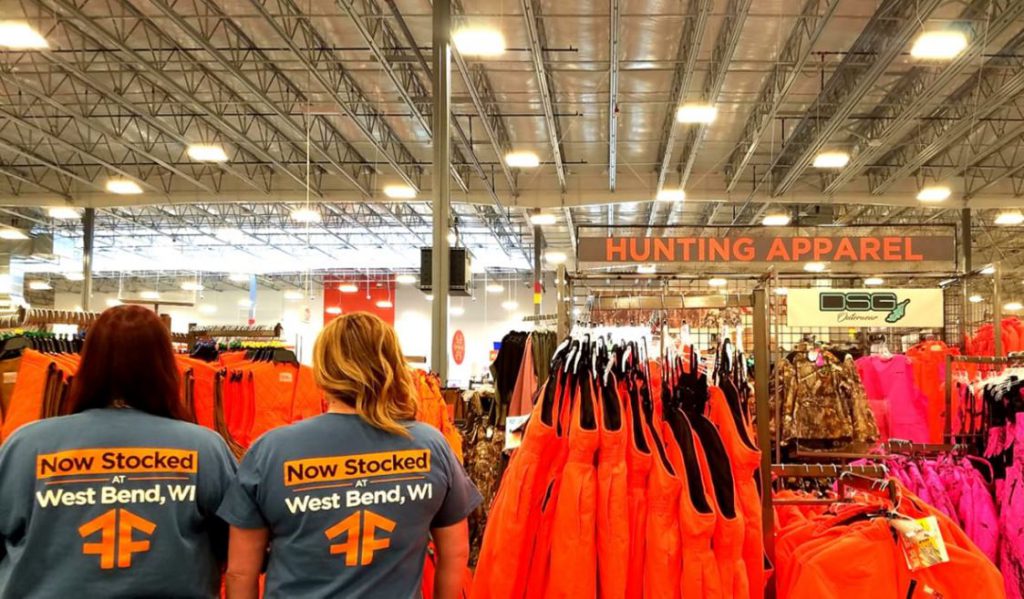 Background:
Fleet Farm has been part of the West Bend community for nearly 60 years, but the former store location wasn't big enough for our loyal local customers. So Fleet Farm chose to triple the size of the original West Bend store and open a new location just two miles from the former store.
This move meant hiring 150 new team members and bringing a greatly expanded breadth and depth of products and services to the store.  It means 4x more pet selection, 3x more sporting goods, and a new Auto Service Center, Power Center Shop and Grill Shop. Fleet Farm is excited to bring West Bend customers the store they've been waiting for.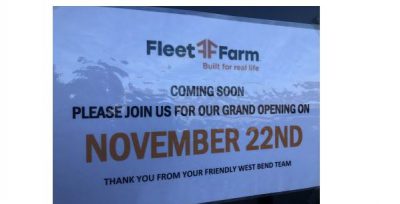 The big day for the public is Friday, Nov. 22 – Grand Opening Celebration, Plus it's Orange Friday!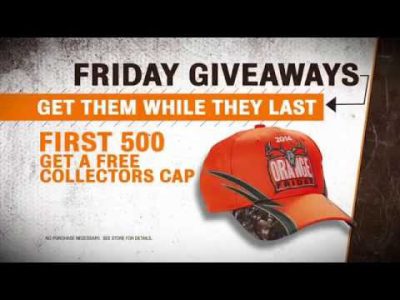 Here are a couple more details about Orange Friday at Fleet Farm.
Hunters need a one-stop destination before heading into the woods for deer camp. That's why Fleet Farm hosts Orange Friday the day before the opening of firearm deer season in Minnesota, Wisconsin, Iowa and South Dakota.

On Orange Friday, Fleet Farm retail locations in Minnesota, Wisconsin, Iowa and South Dakota open an hour early – at 6 a.m. Orange Friday features door-buster deals on items that hunters need for a successful hunt. The first 500 customers through the doors will receive a limited-edition Fleet Farm "Orange Friday" blaze orange hat.

2019 Orange Friday Dates by State

The first Orange Friday sales event will begin in Minnesota and North Dakota on Friday, November 8. Then, Wisconsin and South Dakota host Orange Friday sales events on Friday, November 22. Finally, Iowa celebrates Orange Friday on Friday, December 6. All stores will open one hour early – at 6 a.m. – on their respective Orange Friday sales dates.

Last-minute Prep for Deer Camp

Orange Friday is one of Fleet Farm's largest – and most popular – events of the year, bringing hunters of all ages in for one-and-done shopping to grab those last-minute needs for deer camp. Hunters can fuel up their trucks, get their hunting licenses, stock up on last minute gear and buy plenty of snacks for the tree stand.

"Orange Friday is a big event for our customers, who will stand for hours outside waiting for the doors to open to take advantage of our doorbuster deals," said Heath Ashenfelter, Chief Merchandising Officer for Fleet Farm. "We ensure our cool weather gear, snacks and ammo are fully stocked, as these are huge sellers the day before deer opener."
Visuals:
New store
Orange carpet arrivals
Presentation by Fleet Farm representatives
Ribbon cutting – done Fleet Farm-style  (will it possibly be with a chainsaw?)