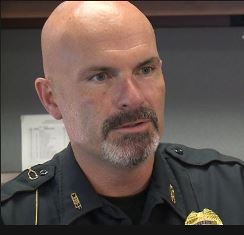 Jan. 28, 2019 – Germantown, WI – A little follow-up on my retirement post (succession plan) and Captain Snow's appointment to Chief.
First, I would like to thank all of you who took the time to post comments. I was very humbled by all your kind words. I thought I would take this opportunity to respond to a couple of questions I have received.
My wife, Anne-Marie and I have no plans to move from Germantown. We really enjoy the community, it is home for us. We also enjoy having four seasons in Wisconsin, Winter and Summer, Well, I forgot what the other two were?
I plan to take a couple months off after my retirement and then I will join the workforce again. What do I plan on doing? Well, that is the beauty of it, I have no idea. Those of you who suggested I take employment as a greeter at a local retail store, uhmmm, no, not in my skill set. Those who suggested I become a spokesperson for hair products for men, although funny, my resume is lacking.
As we move forward making promotions for the new administration, we will announce those appointments as they are being made.
This is more of a statement: I look forward to 2019 and helping the department prepare for a transition of Administration in 2020. I have no intentions of "treading water," "coasting," being a "lame duck." I do appreciate being careful. I don't want to make decisions I don't have to own in the future, but I plan to finish strong and be effective.
Every time I appoint or promote someone, I always tell them not to follow in their predecessor's footsteps; they should make their own path. Having said that, I have every confidence you will see the same quality of service, transparency and community engagement with this new administration. The works of the Germantown Police Department are not because of me, they are the results of a team who embraced our vision, goals and objectives.
Thanks again, Germantown, for your support of your Police Department. I continue to follow national trends in law enforcement, the struggles and challenges. I know we are truly blessed by your support and we do not take it for granted!
Pictured is a sign I have in my bathroom, the irony of keeping things light. I may take that down soon. 

🙂
Stay warm Germantown, be kind and God Bless!
Photo credit: Fox6now.com