November 12, 2021
– Hartford, WI –
For the first time in school history the No. 4 Hartford Orioles advance to Level 4 of the WIAA Football Playoffs, where they will be tested against the former state football champions, the No. 1 Waunakee Warriors.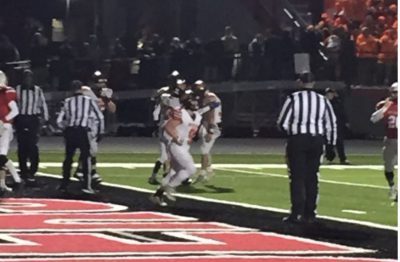 The Orioles may be seen by many as underdogs, however Hartford Head Coach John Redders who has 31 years of coaching football in some capacity, nearly all of them for the Orioles, was quick to remind everyone that "for 18 years no one could beat Homestead in the North Shore Conference, but in 2019 we did knock them off their perch."
"We have really built a culture here at Hartford, one built for long-term success and we are not the same team as the ones Waunakee has faced in the past."
Redders is referring to 2017 and 2019, when Hartford lost to the Warriors 45-19 and 49-21 respectively both in Level 3.
The aforementioned culture has definitely bore fruits of success for football players not just at Hartford, but beyond.
Former Hartford offensive lineman Quinn Meinerz is playing in the NFL for the Denver Broncos and has seen significant starting and playing time in is his rookie season, while Redders also said "there are quite a few products of our school system that are thriving and being given chances to perform at a high level on the collegiate stage too."
"We Are Hartford" is "not just some slogan, it's a badge of honor our athletes, our parents, and our fans wear with pride. We strive to be the hard-working representative that this community deserves," said Redders.
In 2017, Waunakee won its most recent state football championship; always a threat, the Warriors were eliminated in Level 4 of the Playoffs in 2018 and state runners-up in 2019 

In Redders' time as a both head coach and defensive coordinator at Hartford he has made Level 3 six times, but now enters uncharted territory 

Hartford, despite two upset road wins on its playoff resume has not had any victory in the playoffs come easy, with its Level 1 and 2 victories coming by just one point each (including an overtime win) and in Level 3 while the Orioles won by seven points against No. 3 Pulaski, they nearly blew a 35-7 lead in the final 14 minutes of the game. Despite its talent and skill, Hartford will most likely not be able to escape with victory in a similar fashion against this type of program 
Unlike many teams Hartford has faced, or many teams in the state entirely for that matter, the Warriors offense is built on doing damage through the air, having 2,125 passing yards and 23 passing touchdowns compared to just 433 rushing yards and 5 rushing touchdowns 

The Warriors are also lethal at generating points, scoring 503 total points and averaging 41.9 points per game this season, which is impressive considering Hartford is far from a slouch in that department, putting 365 total points and averaging 30.4 points per game this season 
Hartford senior running back AJ Pepin: Hartford's MVP is not known just for his elite running, but also his defensive contributions; he leads the team in rushing and receiving with 236 rushing attempts for 1,518 rushing yards (126.5 yards per game) and 18 rushing touchdowns, and 20 receptions for 337 yards and 4 touchdown receptions; he also leads the team in tackling with 88 total tackles, plus 1 forced fumble, 1 fumble recovery, and 2 interceptions 

Waunakee senior quarterback Quentin Keene: A top 20 quarterback in the state in both passing yards (2,058) and passing touchdowns (22); despite his many pass attempts (198), Keene also has a very good completion percentage (64.6) and just 5 interceptions; secondary play for the Orioles will need to be top notch to prevent the Warriors from running away with the scoreboard in this game 

Hartford junior quarterback Austin Kutz: Kutz definitely delivered last week making big plays, netted 3 total touchdowns (2 passing, 1 rushing), but in such a game where quick offense may be required, can Kutz make key throws, especially since with just one exception he has yet to throw more than 13 passes this season. If Pepin and the running back core of Hartford fail to gain traction, it will be up to Kutz to swing offensive momentum in the Orioles favor against a Waunakee team that has allowed its opponents just 162 total points this season.

The game is Friday, November 12 at a neutral site, Waukesha West High School, with kickoff being at 7 p.m.

The winner will play for the WIAA Division 2 State Football Title, where they will face the winner of the game between Homestead and Kettle Moraine; the champion is at Camp Randall Stadium.