Holy Angels January 2019 Students of the Month | By Mike Sternig
Feb. 19, 2019 – West Bend, WI – Holy Angels School has named Sam Ciriacks, Tyler Sernig and Estella Lambie as the January 2019 Students of the Month.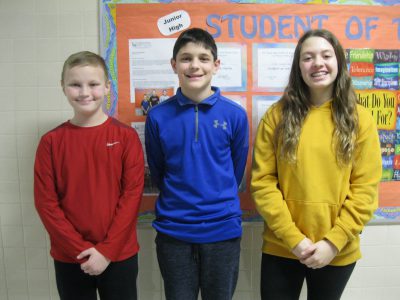 6th Grade:  Sam Ciriacks – Sam's teachers have noticed him growing into his role as a junior high student. While he was somewhat tentative at the beginning of the school year, Sam has shown ever-increasing confidence. Sam is always willing to volunteer for new experiences and participates strongly in all of his classes. Sam is an easy-going, friendly student who enjoys sports and video games.  He is especially interested in football, following the Packers and playing the sport himself.
7th Grade:  Tyler Sternig – Tyler is an intense competitor who sets high standards for himself. He takes pride in doing well in all of his classes, aiming for straight A's every quarter. Tyler loves science, but all of his teachers applaud his participation, work ethic, and effort. Outside of the classroom, Tyler helps out at school by serving at Mass and working as a patrol. He likes sports, particularly baseball, participating in many summer tournaments.
8th Grade:  Estella Lambie – Estella is a likable student who has shown steady growth in organization and responsibility throughout her junior high years. Her teachers appreciate her willingness to work with a variety of partners, and her friendly personality. She is always in a good mood and spreads positive energy. This year, Estella has pushed herself outside of her comfort zone, particularly by joining Honors Choir. She serves at Mass. Her interest in helping others makes her consider teaching and pediatrician as possible careers.