New signs and some business updates in Downtown West Bend
Feb. 19, 2019 – West Bend, WI – Some changes going on in the Downtown Business District on N. Main Street in West Bend.
Below is the process for the new 'consignment' sign going up at Cherry Pickin's, 337 N. Main Street.
Owner Heidi Parlow used the empty space on the south end of her building to advertise.
Just down the block Andrea Gundrum Cybell is fielding questions about her upcoming move as Xpressions Yarn, Bead & Gift Boutique is relocating a couple doors south and moving into the WB Mercantile, 258 N. Main Street. The move is expected to take place in early March.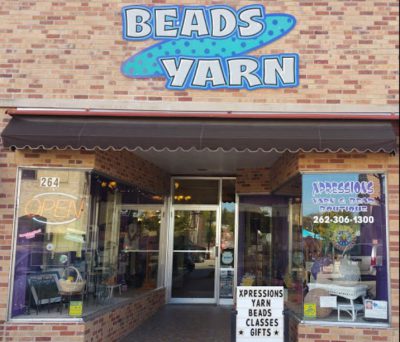 Further south on Main Street the new Pearl of Can Ton, 515 Hickory Street, is doing a booming business. The first day the Asian /Sushi restaurant opened was Feb. 14, 2019.
Customers No. 2 and No. 3 recalled being in the restaurant back when it was a Sears hardware store.
The remodel on the Historic West Bend Theatre Sign is pushing along. An update and video tour of the refurbising of the sign have been posted. Click HERE to view what was found in the midst of the wireworks.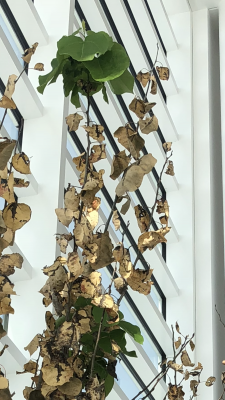 Across the road a small sign of spring at the Museum of Wisconsin Art in West Bend as the quaking aspen in the entryway is showing a little green.
Just to the south down the Eisenbahn State Trail lots of progress is being made on the new West Bend Medical building.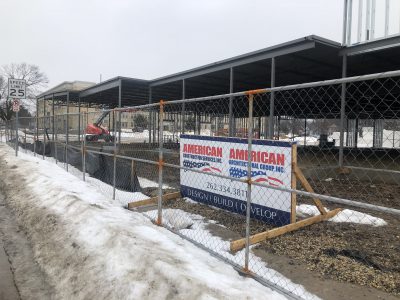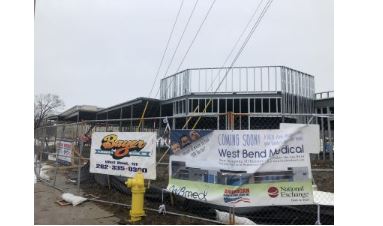 Crossing Highway 33 the new Cafe Floriana is just about ready to open. It's located on the first floor of the Cast Iron building.  Click HERE for details and a look at the menu.
And if you haven't seen the statement for cold in West Bend yet….. How cold is it??  It's so cold the West Bend Public Libary is putting shawls on its statues.
Just kidding…. it's part of the yarn bomb from the History Center of Washington County.