Holy Angels November 2016 Students of the Month – Fiona Shaw, Lola Chemer, and Christian Spaeth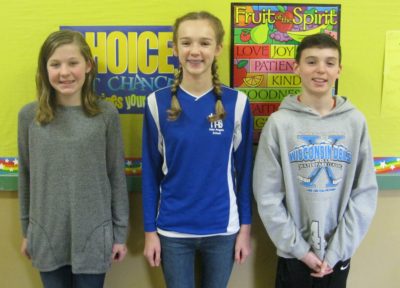 Dec. 7, 2016 – West Bend, WI – Holy Angels School has released its November 2016 Students of the Month.
6th – Fiona Shaw – Fiona is an exceptional student, never settling for less than her best. Not only does she produce high quality work, but she shows a love of learning. She is well-liked for her sweet personality and quirky sense of humor. Her interests are varied, and she finds points in common with most people. She participates in both Math Olympiad and Robotics after school.  Fiona likes drawing as well as working on the computer. She is a big Harry Potter fan, and hangs with a mountain bike group.
7th – Lola Chemer – Lola is a hardworking student who pushes herself to do well. Her teachers see a pleasant, kind and polite girl. Lola loves many outdoor activities including horse-back riding, tennis and water skiing. (We hear she is proficient at bare-foot water skiing.) However, her real love is for acting and she wants to be an actress when she grows up. Until then, she participates in school activities such as volleyball. Lola also works as a patrol and is beloved by her kindergartener charges.
8th – Christian Spaeth – Christian has always been recognized as a friendly kid, but he is showing increased confidence and energy this year. He is a good athlete, particularly playing hockey. Christian is an avid pheasant hunter. At school, his favorite subject is science. His mother tells us he likes to take apart contraptions at home. It's no surprise that he wants to be an engineer when he grows up. Christian helps out at school by being a patrol.