Holy Angels School – March students of the month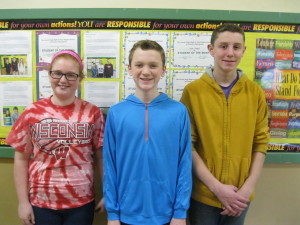 Student of the Month March, 2016: 6th – Caitlin Wohlt
Caitlin is a smart, detail-oriented girl who enjoys a wide variety of activities. She has joined the
knitting club and has been trained as a Mass server. She is a good student, working hard in all
classes. She has a wonderful sense of rhythm and has participated in band. She is a good athlete,
and likes sports, playing volleyball, baseball and basketball.
7th– Taylor Chemer
Taylor belongs to a large and successful family, and he certainly fits the profile of smart, responsible
and confident. Taylor is the only 7th grader in Algebra 1 and achieves high grades in all classes. He
enjoys learning. Taylor contributes to the school, working as a patrol and serving at Mass. In his free
time, he plays video games, rides his bike and reads good books.
8th– Mason Peters
In his last year at Holy Angels, Mason is showing his teachers a newfound maturity. His effort in all
classes is way up as he demonstrates a great attitude. Mason has always worked well with others,
and his easy-going personality allows him to get along with his peers. Mason is good at sports,
particularly wrestling and enjoys playing sports as well as hunting