October 15, 2019 – Markesan, WI – Horicon Bank has officially merged with Markesan State Bank. Markesan State Bank's former four offices opened Tuesday under the Horicon Bank brand.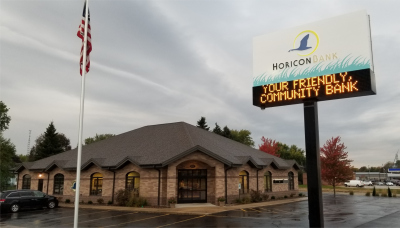 Through the merger, Horicon Bank added locations in the Markesan, Randolph and Waupun communities – bringing Horicon Bank's total locations to 19.
"Horicon Bank has long been a partner with the communities we serve," said Frederick F. Schwertfeger, President of Horicon Bank. "We are invested in their success – both financially and through our community involvement."
"The logo on the building may have changed, yet the friendly faces and helpful customer service are the same," said Schwertfeger. "Our new customers will also enjoy a whole new level of enhanced products and services at Horicon Bank."
Schwertfeger says the two organizations have always shared quite a bit in common.
"From the beginning of the merger process, we have been encouraged by the customer-focused attitude of Markesan State Bank staff," said Schwertfeger.
Horicon Bank now operates 19 offices in seven counties and has $880 million in total assets.