October 15, 2019 – Jackson, WI – The number of seniors at Kettle Moraine Lutheran nearly doubled this month as the high school in Jackson hosted its annual Grandparents Day.
Grandparents arrived before 8:15 a.m. and after chapel tagged along with their grandchildren, attending classes and eating lunch together.
The school day ended at 2:45 p.m.
Grandparents are special gifts from God and play an increasingly important role in guiding young people. KML would like to honor YOU by inviting you to join your grandchildren at school.
Grandparent Mary Neuwirth said it was enjoyable to "see her granddaughter interact with her friends and see how industrious the kids were and how smart they are."
Grandparent Louann Meidenbauer said the most interesting class was Spanish. "The class spoke very little English and it was very interactive," she said.
Grandparent Kay Meyer said the biggest change since she had gone to high school was improvements in technology. "The electron microscope had probably been invented but it wasn't in our books yet," she said.  "I was in physics class this morning and I learned the rate of free fall and it's much more complex now."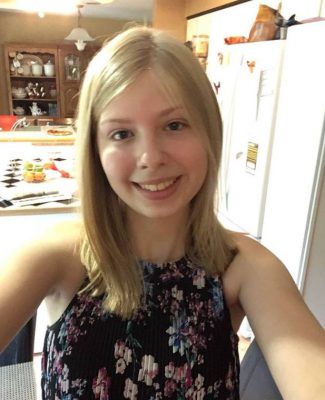 About the author: My name is Amelia Neuwirth. I'm 17 years old and a senior at Kettle Moraine Lutheran High School. Some interesting courses I am taking include AP Chemistry, Dual Credit Statistics, Spanish 4, and AP English. I have a part-time job at Cousins Subs. I enjoy writing about KML because I get to focus on things that are important to me or stories that don't receive much attention in the media. I'm excited to report because it helps me improve my writing abilities, a useful skill that will serve me well in any career I decide to pursue.
My current GPA is 4.000 and I plan to attend Wisconsin Lutheran College and study neuroscience.
If you are a student in Washington County interested in having your school stories published please contact [email protected]