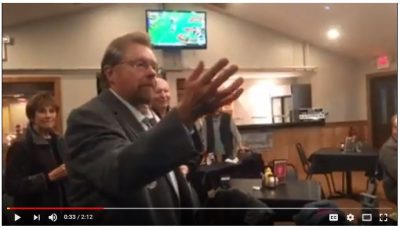 Feb. 7, 2018 – Washington Co., WI – There will be a special Assembly District Inauguration Ceremony this afternoon, Wednesday, Feb. 7 for Representative-Elect Rick Gundrum.
Gundrum recently won a Special Election to fill the seat as the next Representative in the 58th Assembly District. The event begins at 5 p.m. at the Old Courthouse Museum on Fifth Avenue in West Bend. The event is free and open to the public.
Gundrum campaigned as a pro-life, fiscal conservative.
Jim Geldreich, Washington County Republican Party Chairman, said Gundrum is a good fit to follow in the footsteps of Rep. Bob Gannon.
"Obviously in the way of personality it's impossible to fill the shoes of Bob Gannon, however the person representing our assembly district has to be very conservative and willing to fight for conservative ideals in Madison and realize this is the reddest district in Wisconsin," Geldreich said.
The term for the seat in the 58th Assembly District expires January 7, 2019.
The 58th Assembly District includes the communities of Slinger, Jackson, Town of Polk, parts of Richfield, Town of Trenton and West Bend.