Kettle Moraine Lutheran faces Lake Country Lutheran | By Jacob Moeller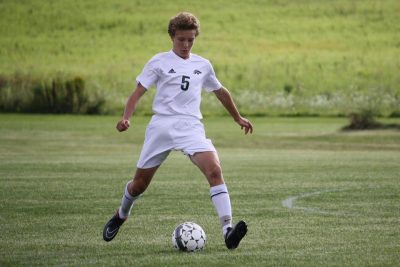 Sept. 7, 2017 – Jackson, WI – A battle of Division 4 giants saw No. 5 Kettle Moraine Lutheran square off against No. 4 Lake Country Lutheran on Thursday night.
The Chargers were the first on the board, getting a composed finish from Ethan Duba in the 7th minute. Lake Country responded with a goal of its own later in the half, and the score remained level at the intermission.
The two sides came out flying in the second frame, but it was the Lightning who struck first on a penalty kick. Joseph Raasch won a spot kick on the other end with an aggressive run, and stepped up to level the game.
The LCL keeper parried Raasch's initial effort, but the striker was there to clean up the rebound and knot the score at 2-2.
The final 40 minutes where an intense affair with chances on either end, but neither team could find the breakthrough, and the match finished all square.
KML will take on Campbellsport on Tuesday for its third conference match of the season.
Photo is of Aaron Weis, courtesy of Paula Asen.