Kettle Moraine Lutheran improves to 7-0-2 in conference play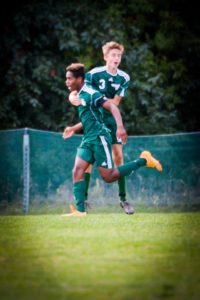 The Kettle Moraine Lutheran boys soccer team furthered its pursuit of a conference championship with a 2-0 win at home over Berlin.
After the first half passed without a goal, the Chargers drew first blood at 50 minutes. Senior Brandon Prahl lofted a pass over the defense and into the path of Joseph Raasch, who flew towards the net and scored.
Collin Liesner doubled the lead in the 67th minute, chipping a shot over the keeper.
The Chargers received a scare late, when Pete Bruce-Allington's shot from distance ricocheted off the crossbar. But keeper Joey Behm was on his toes, scooping up the rebound and clearing the danger.
KML held on for the shutout and improved to 7-0-2 in East Central Conference play.
The Chargers are at home again on Thursday, squaring off with Waupun in another conference clash.
Photo is of Joseph Raasch (7), and Alec Mueller (3). Courtesy of Diane Behm