Kettle Moraine Lutheran student athlete wins PlayInTheDells.com Athlete of the Week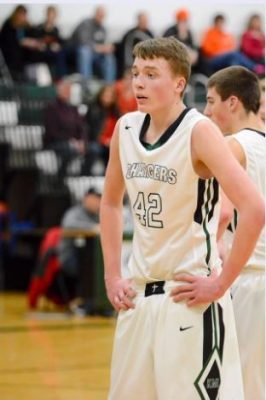 Jan. 14, 2018 – Jackson, WI – Zachary Zuleger from the Kettle Moraine Lutheran boys basketball team has been named the PlayInTheDells.com Athlete of the week for Jan 1-7.
People were asked to vote for who they felt was "the most deserving."
Zuleger helped the Chargers upset previously unbeaten and D3 No. 4 Waupun, 58-51, on Friday. Zuleger tallied a team-high 16 points for KML. The senior is averaging 12.6 points per game for the Chargers, who are 7-2 overall and 4-0 in the East Central.
Here are the rundowns of the other athletes in the PlayInTheDells.com Athlete of the Week Nominees: January 1-7
Ethan Anderson, Black River Falls boys basketball: Anderson scored a career-high 48 points in the Tigers' win over Luther, 76-63, on Friday. He went 14-for-26 from the floor and made all 18 of his free throw attempts. Anderson, a senior, is averaging 29.2 points, 11 rebounds, 3.1 assists, 2.5 steals and 1.1 blocks per game for Black River Falls, who is 6-4 overall and 3-1 in the Coulee.
Tyler Dow, Stoughton wrestling: Dow, the eighth-ranked wrestler in the nation at 160 pounds, bested Matt Ortiz of Montini Catholic (Ill.) 8-1 in the 160 pound title match at the 20th annual Cheesehead Invitational in Kaukauna on Saturday. Dow is a University of Wisconsin recruit.
Madelyn Granica, Amery girls basketball: Granica tied her career high of 29 points in a game and went over 1,000 career points in the Warriors' win over Boyceville on Tuesday. She also added 13 rebounds, 2 steals and a block in the victory. On Thursday, she tallied 28 points, 12 rebounds, 2 assists, 4 steals and a block in Amery's win over New Richmond, 64-40. In the two games last week, Granica made 19 of her 21 free throw attempts. The junior is averaging 24.5 points, 10.9 rebounds and 2.7 steals per game for the Warriors, who are 8-3 overall and 4-2 in the Middle Border.
Caitlyn Harper, Arrowhead girls basketball: Harper finished with 21 points and 16 rebounds in Arrowhead's 49-47 win over D1 No. 3 Mukwonago on Friday. The next day, Harper tallied 27 points and 10 rebounds in the Warhawks' victory against Germantown, 67-53. The senior and Cal Baptist recruit is averaging 16.1 points per game for Arrowhead. The Warhawks are ranked No. 5 in the latest WisSports.net Coaches Poll and have an 11-1 overall record, including a perfect 7-0 mark in the Classic Eight.
Photo is of Zachary Zuleger, courtesy of Diane Behm
Hat tip Thomas Hoffmann