Jan. 13, 2018 – West Bend, WI – Well it was a mighty chilly day to be sitting in a tree stand taking part in the Deer Management Program at Lac Lawrann Conservancy in West Bend.
Today bow hunters saw 13 deer and they could not get a kill shot so zero shots were taken.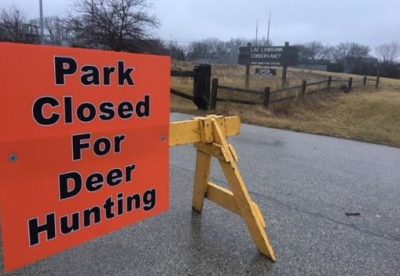 The harvest so far after four days is three deer. During the pilot program the city hoped to trim the deer population by 40.
Tomorrow is the last day of the program.
The five-day Deer Management Hunt runs from Jan. 10 – 14.
The park is closed to the public Jan. 10 – 14. Bow hunters will be able to keep only one deer; the others will be donated to the local food pantries and processing will be covered by the DNR.
The goal of the pilot hunt is to manage the deer population.
Hunters have to notify West Bend Police before going into the park and call again when they exit the park.
Hunters are able to bait the deer with two gallons of corn per person.  Zuba said they set it out and it's gone the next day.
A followup meeting will be held Jan. 23, 2018 at 5:30 p.m. at West Bend City Hall.