Kettle Moraine Symphony schedule for 2019-2020 season
Washington Co., WI – During the 2019-20 season the Kettle Moraine Symphony is touring Washington County to take advantage of four of the six great performing arts facilities available in the county. A free bus for non-drivers will again be available for each concert.
·         At this first concert on September 29, the Chamber Strings from West Bend High School, Seth Matuczak, orchestra director, will once again be performing side-by-side with KMS string players.  In our ongoing effort to promote artistically powerful experiences for students we will demonstrate the joy intergenerational performing and expose more families to the joys of live performance and symphonic music.
·         Violin virtuoso Jeanyi Kim, associate concertmaster of the Milwaukee Symphony, will appear as the soloist for Vivaldi's "Autumn Concerto" from his The Four Seasons.
·         Judge Andrew Gonring will perform as the narrator for Benjamin Britten's A Young Person's Guide to the Orchestra
·         While parents and older students are enjoying Tchaikowsky's 4th Symphony in the Kettle Morine Lutheran High School Performing Arts Center, young children will be invited to participate in music activities in an adjacent space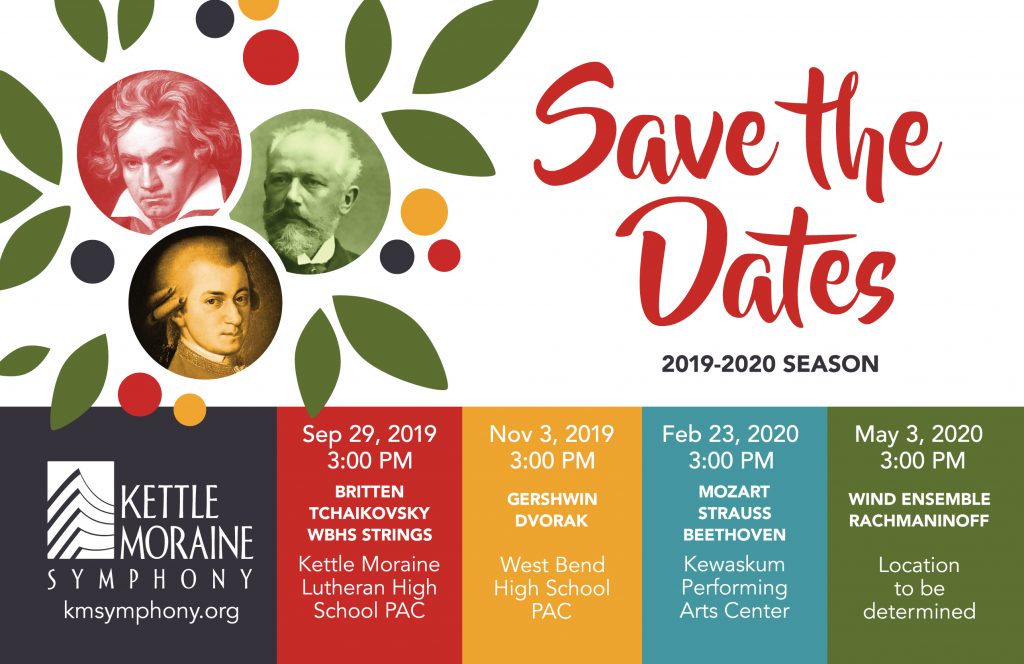 September – Kettle Moraine Lutheran High School Performing Arts Center
Family Concert – Sunday, September 29 – 3 p.m.
Britten: "The Young Person's Guide to the Orchestra" narrated by Judge Andrew Gonring
Vivaldi: "Autumn" from "The Four Seasons" with WBHS Chamber Strings
Tchaikovsky: Symphony No. 4
November -The Silver Lining Arts Center at West Bend High School
Veterans Concert – Sunday, November 3 – 3 p.m.
Robert Lowden: "Armed Forces Salute"
Gershwin: "An American in Paris"
Dvořák: Symphony No. 9 "From the New World"
February – Kewaskum Performing Arts Center
"Chamber" Orchestra Concert – Sunday, February 23, 2020 – 3PM
Mozart: Symphony No. 40
Strauss: Serenade No. 7
Beethoven: Symphony No. 8
May – Location to be announced
Winds & Percussion – Sunday, May 3, 2020 – 3 p.m.
Claude T. Smith: "Flight" (high school bands collaboration project)
Rachmaninoff: Symphony No. 2 (full orchestra)