Kettle Moraine Lutheran beats Kewaskum H.S. in chess | By Angie Molkentin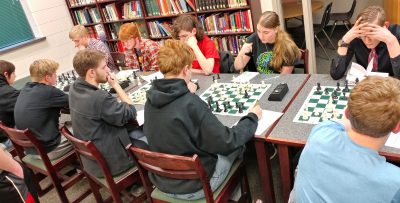 Jan. 15, 2018 – Jackson, WI – Varsity chess match pits Kettle Moraine Lutheran vs. Kewaskum High School.
With the strength of five seniors, Kettle Moraine Lutheran varsity chess beat Kewaskum in a match hosted at KML.
KML achieved wins from (right to left) Ted Molkentin on board 1, Olivia Schaenzer on board 2, and Luke Eisner on board 3. Isaac Helwig and Xander Neuwirth ended in draws on boards 4 and 5.
The future of chess at both KML and Kewaskum is strong – with an additional 11 JV games played to grow experience of newer players.
Both KML and Kewaskum chess teams are preparing for the Wisconsin Scholastic Chess Championships in Oshkosh in March.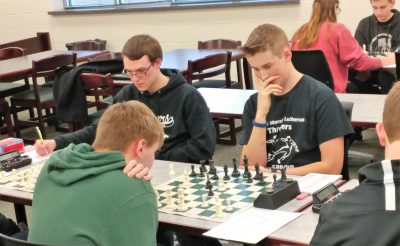 Growing experience: KML JV chess players Matthew Hahn and Eric Rodell face Kewaskum.